Syria
Homs: Syrian Army, Air Force Hit Hard ISIL's Military Positions in Desert Region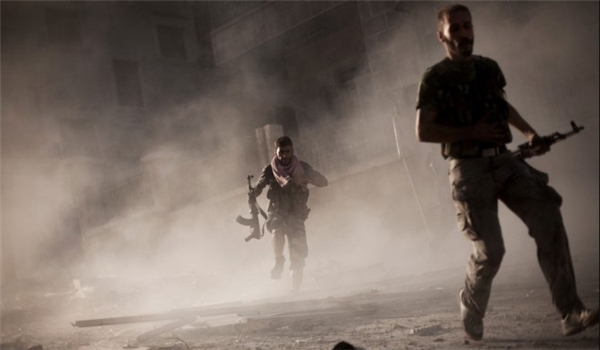 The Syrian army and air force heavily pounded the ISIL terrorists' military positions in Badiyeh (desert) region of Homs province as reinforcement convoys were sent to further support the government troops.
"The Syrian Army sent a new military convoy, comprising hundreds of Syrian troops along with military hardware, to areas near the town of al-Sukhneh in Eastern Homs," Syrian battlefield sources said.
The sources, meantime, said that the Syrian Army units engaged in fierce clashes with the ISIL terrorists South-East of al-Sukhneh near Station 3 and in al-Zabibat, killing and wounding a number of militants.
In the meantime, the Syrian Air Force pounded the movements and positions of the ISIL in a region located between Hamimeh and Station 3 and near the administrative borderline between Homs with Deir Ezzur, destroying several terrorist targets and killing several militants.
In a relevant development on Monday, the Syrian army was preparing to launch military operations against the remnants of the ISIL terrorists in the Eastern Badiyeh of Homs as reports said that the US-supported militants block civilian exit from al-Rukban camp in the occupied al-Tanf region at the border with Iraq.
The Arabic-language al-Watan newspaper reported that the Syrian army is preparing for purging operations against the ISIL in Badiyeh of al-Sukhneh in Eastern Homs between the two regions of Hamimeh and Station 3 as well as the Southeastern parts of Badiyeh al-Sukhneh.
It added that the Syrian army's air unit has pounded the ISIL's mobile targets near Waze'e dam and the border between Homs and Deir Ezzur in Eastern Badiyeh of Homs, leaving heavy damage on the militants.
The newspaper quoted special sources as saying that the terrorists stationed in al-Tanf region at the border with Iraq have prevented evacuation of civilians from al-Rukban camp, upon the American forces' order, blocking any efforts by the Syrian government to return them to their homes or sending humanitarian aid to the region.