Syria
Homs: Syrian Army Tightens Noose on ISIL Terrorists in Badiyeh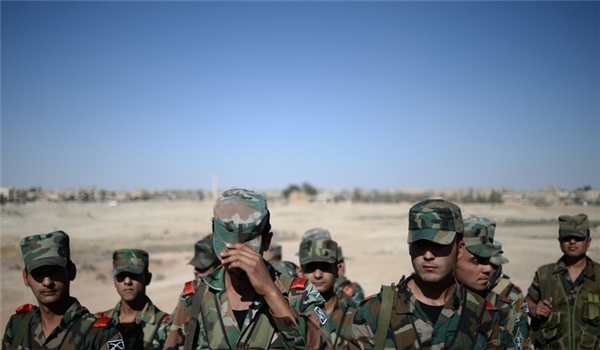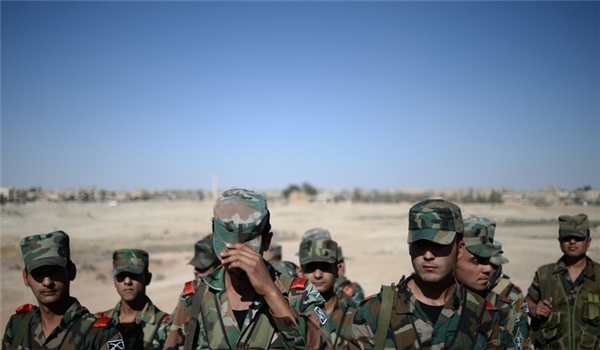 The Syrian Army troops captured several regions in Badiyeh (desert) after laying siege on ISIL terrorists in Northeastern Homs, military sources confirmed on Saturday.
The sources said that the army men engaged in fierce clashes with ISIL terrorists that were under the siege of the pro-government forces in Northeastern Homs and managed to take control of Taloul al-Kouriayt, Wadi al-Rabahiyeh and Ba'ar al-Aboud regions West of the town of al-Sukhnah.
They added that the army soldiers continued their advances against ISIL Northwest of al-Sukhnah and imposed control over Wadi al-Haraf region.
Relevant reports said on Friday that the army troops fended off massive offensive of the ISIL in Southern Homs near the border with Iraq after fierce clashes with terrorists, inflicting major losses on the terrorists.
The ISIL militants launched a massive offensive along the Iraqi border, targeting the Syrian Army's primary defense lines in the desert regions of the Homs province that ended in complete disaster as the soldiers heavily repelled the attack.
ISIL began the offensive by attacking the army posts near the border, resulting in a series of fierce clashes that lasted for several hours.
The army men, backed up by the popular forces, managed to beat back the terrorists, killing and wounding scores of militants across the vast desert terrain.
The Syrian pro-government forces inflicted heavy damage on the terrorists' military hardware, destroying a large number of armored vehicles used in the attack.
The army and their allies have reinforced the area in preparation for another large scale attack by the terrorists.