World News
Honduran congress rejects Zelaya reinstatement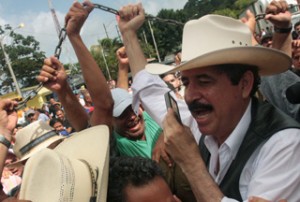 Honduran lawmakers have rejected a proposal to reinstate the ousted President Manuel Zelaya, snubbing the international community's criticisms of the coup-installed government.
The Central American nation's congress voted off a bill floored in a 10- hour session meant to consider the reestablishment of Zelaya by 111 parliamentarians disfavoring his return, compared to 14 demanding a default in power.
"My vote is (a lesson) for anyone who intends to perpetuate himself in power," the Associate Press quoted a conservative congress member as saying in criticism of Zelaya, who sought constitutional reform in the country's election laws.
A Zelaya loyalist, however, told reporters after the vote, "How can we call this a constitutional succession when the president's residence was shot at and he was taken from his home in pajamas?"
Meanwhile, Zelaya slammed the congressional vote results and said the country had slipped into the realm of "lawlessness".
"Today, the lawmakers at the service of the dominant classes ratified the coup d'etat in Honduras," he noted.
The latest ballot has been brokered by international efforts to diffuse months-long post-coup tensions in the poverty-stricken country.
Most Latin American countries have condemned the recent Honduran shift in power with Venezuela's leader, Hugo Chavez, being the first to voice strong reaction to the vote.
"A new form of coup d'etat has emerged," Chavez said in a televised speech on Wednesday.
"Just as the money from drug trafficking is laundered, these elections were similar. It's laundering a coup d'etat in a shameless way before the world," he added.