General
Honduran coup leaders order Venezuelan diplomats to leave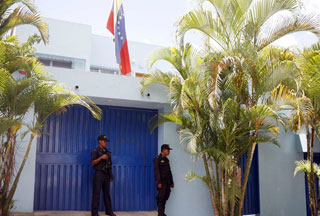 Honduran coup leaders have ordered Venezuelan diplomats to leave the country in 72 hours, accusing them of meddling in Honduran affairs.
The move came amid rising threats by the international community to impose new sanctions on the Central American nation to force it to reverse the effects of the military putsch against the incumbent President Manuel Zelaya.
The charge d'affaires at the Venezuelan Embassy in the Honduran capital Tegucigalpa, Ariel Vargas, confirmed the report, saying he had received a letter from the Honduran Foreign Ministry in this regard.
On June 28, the Honduran military ousted President Manuel Zelaya after his decision to hold a referendum to lift presidential terms limit. Zelaya had come to power after a victory in a democratic presidential election in the country.
Venezuelan President Hugo Chavez has harshly criticized what he calls the "gorilla" government that overthrew his ally.
In its letter to the Venezuelan Embassy, the Honduran interim government accuses the Chavez administration of "threatening to use its armed forces against Honduras."
Separately, Chavez has asked the United States to force the coup leaders to accept Zelaya's return.