General
Honduran political crisis deepens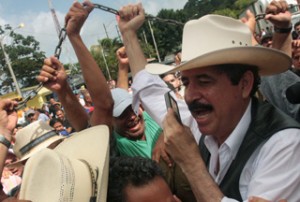 Diplomatic efforts to solve the month-long political crisis in Honduras have been intensified after the US revoked the visas of four of the country's interim officials.
The crisis overshadowed a one-day summit of most of the Central American leaders plus leaders of Mexico and Colombia in Costa Rica, as the Honduran Congress prepared a response to a peace plan proposed by Costa Rican President Oscar Arias.
Arias warned at the summit's opening that the interim Honduran rulers would remain "absolutely ostracized" if they refused to accept Zelaya's return to power, as proposed in the plan.
On Wednesday, deposed Honduran President Manuel Zelaya said that the Costa Rica talks had failed, while the interim rulers and the military – which sent Zelaya into exile on June 28 – have rejected his return as president.
The Honduran Supreme Court on Tuesday also rejected bringing forward elections currently due in November, which was another requirement of the accord.
Zelaya's ouster has drawn widespread condemnation and aid freezes, and Honduran business leaders on Wednesday lamented the impact of the crisis, with the head of the Chamber of Commerce estimating losses of around two billion lempiras ($105.7 million).
In a step further undermining the acceptability of the coup leaders, the United States on Tuesday revoked diplomatic visas for four Honduras interim government officials as it sought to press them into a deal with Zelaya.
The Organization of American States (OAS), which suspended Honduras over Zelaya's ouster, scheduled a meeting on the crisis in Washington on Friday, a statement said Wednesday.
It was unclear whether Zelaya would make a third attempt to cross into Honduras soon.