General
Honduras orders expulsion of Argentinean diplomats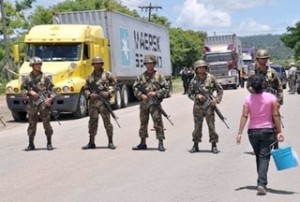 Interim leaders in Honduras, in a tit-for-tat move, have told Argentinean diplomats to leave the country within three days.
Coup leaders broke off diplomatic ties with Argentina after Buenos Aires expelled the Honduran ambassador last week.
The expulsion came after the envoy, Carmen Eleonora Ortez Williams, voiced her public support for the June 28 ouster of President Manuel Zelaya.
This is while Argentina and Latin American states have thrown their weight behind Zelaya and defend his right to return to power.
Argentinean Foreign Minister Jorge Taiana, however, rejected the decision, saying the diplomats had no plans to pull out of the embassy.
"Argentina's diplomatic staff is in Tegucigalpa and they don't have a (leaving) date at all," said Taiana.
Earlier Honduran leaders had ordered Venezuela's diplomats to leave the country, but they have still refused.