Asia-Pacific
World News
Hong Kong leader urges dialog after bill's withdrawal
Hong Kong's chief executive has renewed her call for protests to end, a day after she formally withdrew a proposed bill that had stirred controversy.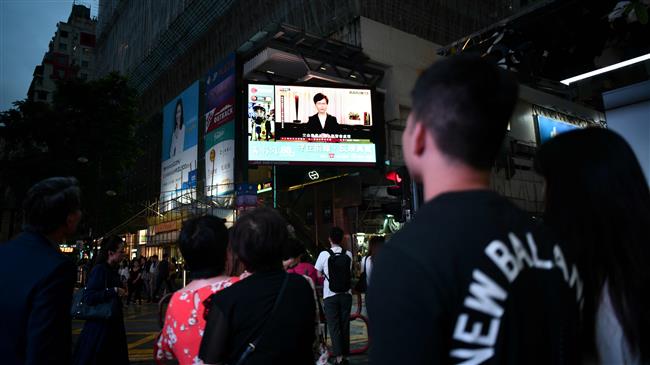 Carrie Lam announced in a pre-recorded televised message on Wednesday that she was scrapping the unpopular extradition law, which had triggered three months of rallies by millions of people in the fanatical hub.
Lam said the bill would be withdrawn at the next session of the city's Legislative Council, scheduled for next month.
At a press conference on Thursday, Lam adopted a conciliatory tone and said her decision to fully withdraw the bill was an attempt "to help prevent violence and stop chaos as soon as possible, resume the social order and help our economy and people's livelihood to move forward."
"It is obvious to many of us that the discontentment in society extends far beyond the bill," she added, saying she recognized that anger over inequality and the government had spiraled and needed to be addressed.
Lam expressed hope that the annulment of the bill could be a basis for dialog with anti-government protesters.
Hong Kong plunged into unrest in June and has been the scene of anti-government demonstrations over the extradition bill, which would have allowed local authorities to detain and extradite suspects to be tried in mainland courts.
Tear gas fired to disperse Hong Kong protestersPolice fired tear gas to disperse protesters wearing hard hats and gas masks in Hong Kong.
With protests gaining further momentum, the government of the Chinese-ruled region effectively backed away from the bill but the rallies persisted, with individuals sometimes resorting to violence and vandalizing government buildings.
Protesters even went as far as demanding Lam's resignation.
A full withdrawal of the bill had been one of the protesters' demands.
The international financial hub has been governed under a "one-country, two-system" model since the city — a former British colony — was returned to China in 1997.
China has repeatedly warned against violence in the region and has said foreign countries, mainly the United States and Britain, have been provoking the riots. Beijing has asked the two countries to stop meddling in Hong Kong's affairs.