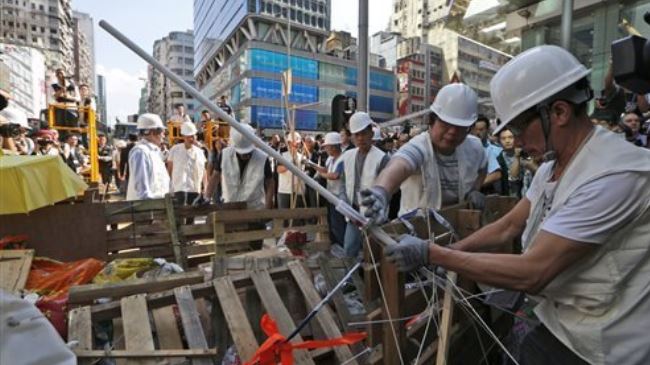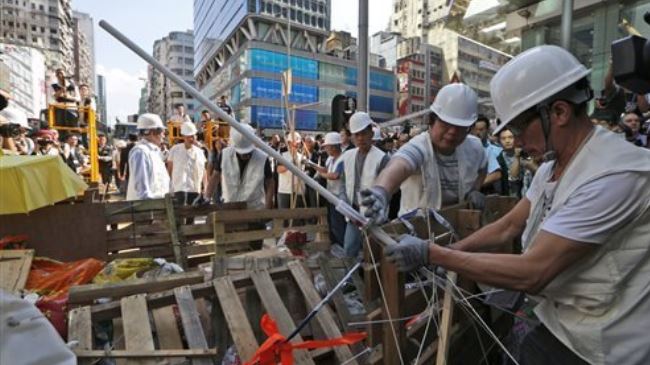 Hong Kong authorities have cleared barricades at a major protest site which has been the scene of anti-election law demonstrations for nearly two months.
Early on Tuesday, dozens of workers enforcing a court order dismantled makeshift barriers obstructing part of a busy shopping street in Mong Kok district, one of the main protest locations in the city.
Police forces watched the clearance operation which was carried out without resistance from the protesters. A number of people supporting the operation applauded from the sidelines.
The court ruling for clearance only covered Argyle Street, but reports say another court injunction will be applied in Mong Kok's busy Nathan Road on Wednesday morning.
Last week, another main protest area next to the Hong Kong government headquarters was cleared under a court order.
Private companies and associations have been seeking court injunctions in order to clear the main roads in the city.
Taxi drivers have also been trying to obtain court orders to clear blocked roads. They say traffic disruption caused by the protests has negatively affected their business.
The protests began late September after China said there would be no open nominations for the region's next chief executive in 2017. Voters would choose from a list of two or three candidates selected by a nominating committee.
China has said it will introduce universal suffrage for Hong Kong's 2017 elections, but wants a committee to approve the candidates.
Hong Kong is a special administrative region of China. The financial hub has enjoyed substantial political autonomy since 1997, when it returned to China after about a century of British colonial rule.