China
Hong Kong police surround sit-in as clashes rage on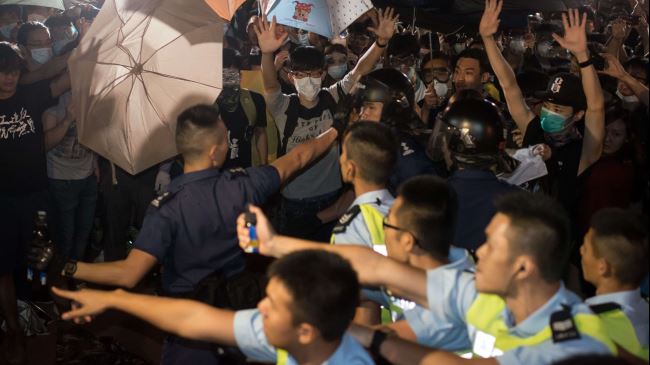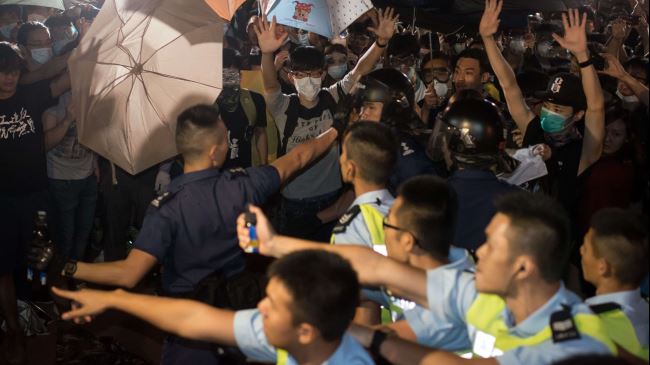 The Hong Kong police forces have surrounded a small sit-in to prevent it from spreading as demonstrations have again flared up in the Asian financial hub.
The recent development came on Wednesday after intensified clashes between protesters and Hong Kong police forces in recent days.
Though the demonstrations had subsided last week, thousands of protesters took again to the streets of Hong Kong on Saturday after negotiations between protest leaders and the government failed to deliver any concrete results.
Meanwhile, the Hong Kong local government has been criticized by rights groups after police forces were filmed severely beating a handcuffed protester on Wednesday. The government says it has launched an investigation into the incident, suspending several police officers for extensive use of force against the protesters.
The protests were triggered after China refused to allow open nominations for the region's next chief executive in 2017, forcing the voters to choose from a list of two or three candidates selected by a nominating committee.
China has said it will introduce universal suffrage for Hong Kong's 2017 election but wants a committee to approve the candidates.
US Secretary of State John Kerry has recently said that Washington supports universal suffrage in Hong Kong.
Beijing, however, has warned the United States against any meddling in Hong Kong's internal affairs, saying China will not tolerate illegal acts in its territory.
Hong Kong is a special administrative region of China. The financial hub has enjoyed substantial political autonomy since 1997, when its leadership returned to China after about a century of British colonial rule.