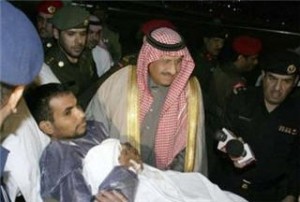 Yemeni Hezbollah Movement Houthi fighters have begun handing over the remaining Saudi soldiers they are holding to the committee in the northern town of Saada overseeing a fledgling ceasefire, a spokesman said on Thursday.
"We have started to hand over the rest of the Saudi soldiers to the ceasefire committee in Saada," Mohammed Abdul Salam said.
Four committees in north Yemen are charged with implementing the ceasefire between the fighters and the government, which went into effect on Friday.
The fighters on Monday freed the first of five Saudi soldiers captured during the conflict as part of the six-point truce agreement with Sanaa.
As well as freeing all prisoners and opening roads in the north, the truce requires the Houthis to withdraw from government buildings, return arms seized from security forces, hand over captured army posts and pledge not to attack Saudi Arabia.
Last month, the fighters offered to accept the five conditions originally set by the government for a ceasefire and withdrew from all of the Saudi territory.
Saudi Arabia, however, continued its offensives alongside with the Yemeni Army. Sana'a rejected the Houthis' peace offer, saying it would stop the war only if they complied with the government's sixth condition.
Riyadh joined Yemen's offensive against the Houthis after accusing the fighters of killing a Saudi border guard and occupying two border villages on November 3.