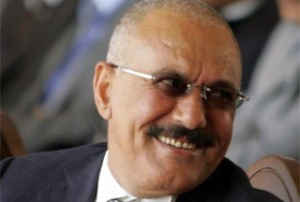 Yemen's President Ali Abdullah Saleh has called on the country's Houthi fighters to enter into the county's political arena by forming a party.
Hailing an early February ceasefire reached with the Hezbollah fighters based in the beleaguered north, Saleh said the group could play a role in the country's politics as a political party.
The remarks come almost a month after the Houthis accepted the central government's conditions in a bid to put an end to a massive onslaught in the north, backed by the Saudi and US military forces and logistics.
The joint offensive drove some 150,000 people out of their homes in battlefields in northern Yemen, Sa'ada province in particular.
Hundreds of people, including a large number of civilians, were killed since Yemen's stepped up offensive was launched in August.
Last week, Houthi fighters complained that Sana'a had kept its siege over the capital of the northern Shia-dominated province of Sa'ada in contrast to the terms of the ceasefire.
"The army continues to this moment to refuse to lift the siege on the city of Sa'ada," the Houthis said on their website, adding that the Yemeni soldiers were re-establishing military checkpoints on the newly-opened roads, Reuters reported.
The fighters said that the army was preventing citizens from entering their homes and was also preventing food supplies from reaching the war-stricken regions.
Some 187 children were killed as the result of the government and Saudi attacks during the war, said a recent report issued by UNICEF (the United Nations Children's Fund) and the Yemen children's rights organization.