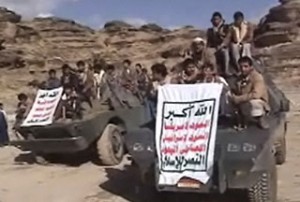 While Houthi fighters say they have captured Saudi troops inside Yemeni territory, Riyadh vows to continue pounding the fighters' positions and border villages in northern Yemen.
Saudi Arabia's airstrikes in the border region of Jabal al-Dukhan has so far killed dozens of Yemeni civilians. The kingdom has also deployed armed forces along its border and has threatened a ground incursion into northern Yemen.
Riyadh claims that the aerial attacks targeted Houthi positions on "Saudi territory" and has vowed to continue with the offensive until it clears its territory of Muslim fighters.
This is while, the Houthis say they have captured Saudi troops "inside Yemeni territory," describing the move as a "response to Saudi attacks" on their positions and villages in northern Yemen.
According to a statement by the fighters on Saturday, the Saudi military pounded their positions in northern Yemen with airstrikes and mortar fire overnight, killing a number of Muslim fighters.
Media outlets have quoted the Saudi military saying that it has killed about 40 Houthi fighters.
The Saudi air force launched its deadly offensive against Houthis on Wednesday after accusing the resistance fighters of killing two Saudi soldiers on the border.
The Houthis accuse Riyadh of using phosphorous bombs and killing Yemeni civilians. The fighters have long accused Riyadh of supporting the Yemeni government in attacks against them.