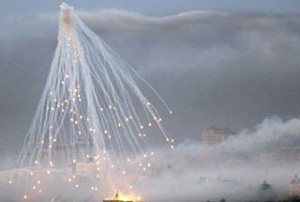 Yemen's Houthi fighters say Saudi Arabia continues to strike Yemeni villages using phosphorus bombs, as the fight between security forces and fighters goes on in northern Yemen.
The Houthis have reported that at least two women and a child were killed in the latest raids.
The attacks targeted a refugee camp as well as different neighborhoods in the northwestern province of Sa'ada.
The Houthi fighters say Saudi forces launched over 230 rockets into Yemeni territory on Saturday night alone.
The Yemeni military has launched a major offensive, dubbed 'Operation Scorched Earth', against Houthi Shias in the northern sector of the country.
The government accuses the fighters led by Abdul Malik al-Houthi of seeking to restore the imamate system, which was overthrown in a 1962 coup.
The Yemeni military has declared that it has killed some fighters who were trying to infiltrate a military base in the al-Maghash area.
The Houthis argue, however, that they are defending their rights against government marginalization, a policy which they believe has been adopted under pressure from Saudi-backed Wahhabi extremists.
The Saudi Arabian government has added to the problem by launching its own offensive against the fighters.
While Riyadh insists that it is targeting Houthi positions on 'Saudi territory,' the fighters say Saudi Arabia is bombing Yemeni villages with chemical weapons and causing the death of Shia civilians.
International aid agencies and the UN bodies have voiced concern over the dire condition of the Yemeni civilians who have become the main victims of the conflict in Yemen.