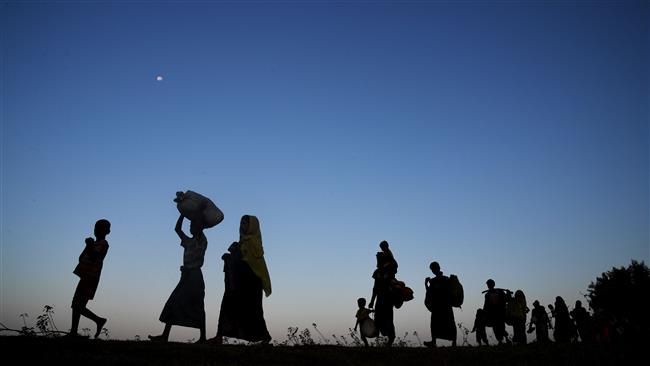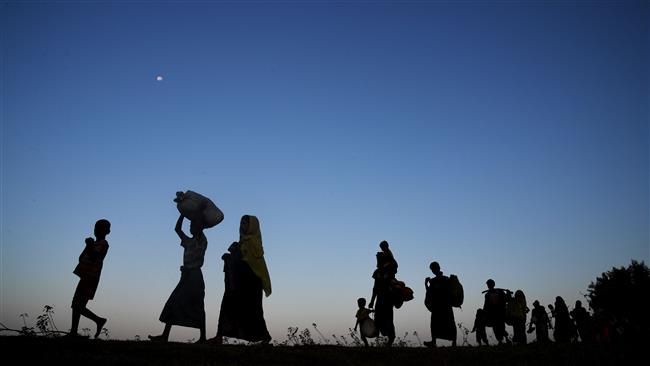 Human Rights Watch (HRW) has called on world leaders to address the plight of Rohingya Muslims in Myanmar, who have been fleeing government-sanctioned violence in the Southeast Asian country since late last year.
The New York-based rights organization made the plea on Thursday as world leaders are set to gather for a host of summits in Asia from November 10 to 14.
"The Rohingya crisis is among the worst human rights catastrophes in Asia in years and demands concerted global action," said Brad Adams, the Asia director at HRW.
"World leaders shouldn't return home from these summits without agreeing to targeted sanctions to pressure Burma (Myanmar) to end its abuses and allow in independent observers and aid groups," he said.
'Take Myanmar to The Hague!'
Adams also stressed that world leaders gathering in Asia should consider organizing a set of judicial mechanisms to hold accountable the perpetrators of the abuses in Myanmar via the United Nations General Assembly and Human Rights Council.
"The International Criminal Court was created precisely to deal with crimes against humanity like those being committed in Burma," the executive at the US-based organization said. "Members of the Security Council attending the Asia summits should be discussing referring the situation in Burma to The Hague."
Adams called on leaders to ensure that their governments opposed plans for the displaced Rohingya Muslims to be returned to Myanmar by force, citing that such plans fail to meet core international standards prohibiting forced returns or returns that could result in further abuses.
Heads of governments from the Asia-Pacific Economic Cooperation (APEC), including the US, China, Japan, Russia, Canada, Australia, and Mexico, will be meeting in Da Nang, Vietnam, on November 10.
Leaders from the Association of Southeast Asian Nations (ASEAN) will be meeting in Manila, Philippines, on November 12, along with associated ASEAN side-summits with the US, the European Union, Japan, and South Korea, among others.
Most of these leaders will then take part in the annual East Asia Summit in Angeles, north of Manila, on November 13 and 14.
In a unanimously-backed statement released on Monday, the United Nations Security Council (UNSC) strongly condemned government-sanctioned violence against Myanmar's Muslim Rohingya minority, voicing "grave concern" at the reports of human rights violations by the country's security forces in the Rakhine State.
Myanmar's government has been denying the widespread reports and eyewitness accounts of horrific violence by government soldiers and Buddhist mobs against the Rohingya in Rakhine. That violence began late last year and intensified in August.
Myanmar brands the Rohingya Muslims in the country "illegal immigrants" from Bangladesh. Rohingya Muslims, however, have had roots in the country that go back centuries. They are considered by the UN the "most persecuted minority group in the world."
More than 600,000 Rohingya Muslims have so far fled the predominantly-Buddhist Myanmar to neighboring Bangladesh since August 25, when the crackdown on the Rohingya intensified in Rakhine.