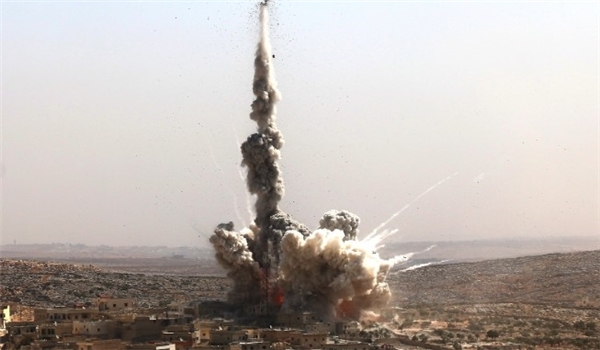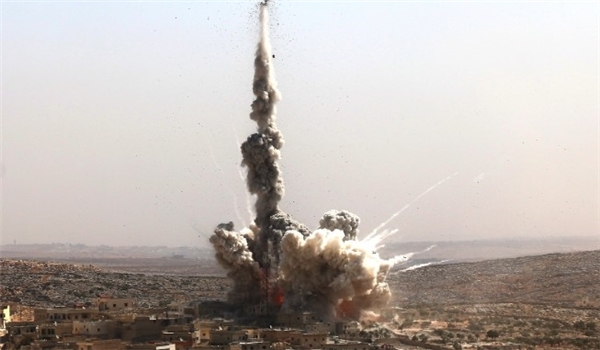 A huge explosion was reported in a large arms and ammunition cache of Turkistani terrorists near regions that the Turkish forces conduct patrolling missions in Western Idlib.
Field sources reported that a huge explosion occurred in Turkistani terrorists' arms cache on Wednesday, 200 meters away from a Turkish base in the town of Eshtabraq West of Jisr al-Shaqour in Western Idlib.
They added that after the blast, the Turkish forces and Turkistani militants were on alert and the Turkish planes flew over the region.
Meantime, media activists said that a Russian warship stationed near the Syrian coasts has fired a Caliber missile at one of the terrorist's targets near the Turkish forces' base in Idlib, smashing the huge arms cache of Turkistani terrorists.
Jisr al-Shaqour is one of the most important bases of the Chinese members of Turkistani terrorist group who were granted the Turkish nationality and are affiliated to the Turkish army's intelligence organization.
The explosion of the weapons cache in Jisr al-Shaqour happened as the Syrian army is preparing for massive military operations to purge the terrorists from the region.
Field sources said on Tuesday that the army dispatched a large number of fresh forces and a large volume of military equipment to Northeastern Lattakia and to Jisr al-Shughour region in Southwestern Idlib.
The sources further said that the army was possibly mulling to launch a fresh large-scale operation in Idlib after completing Southern Syria operation, adding that the army would probably kick off its operation from several flanks to liberate al-Ghaab Plain and Jisr al-Shughour to restore sustainable security to Northeastern Lattakia.
The army men's control over Northern Lattakia, including Jabal al-Akrad and Jabal al-Turkmen would also restore security to borders with Turkey, the sources opined.
They went on to say that a large number of the army's elite forces and advanced weapons would be forwarded to Idlib after completing Dara'a operation, adding that Idlib operation would be a hard battle for the government forces due to the presence of a large number of foreign terrorists in Northwestern Syria.
The terrorist groups have recently kicked off several attacks on the army positions in Northern Lattakia.