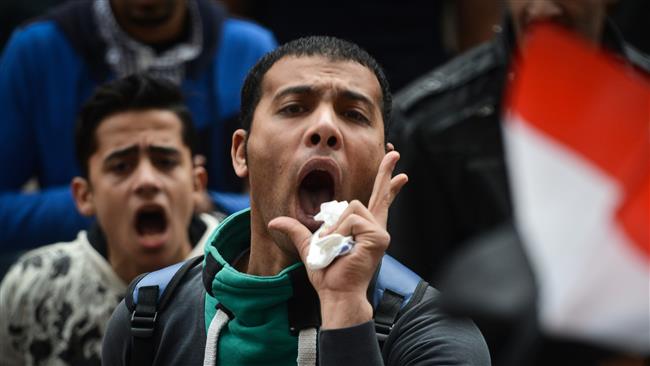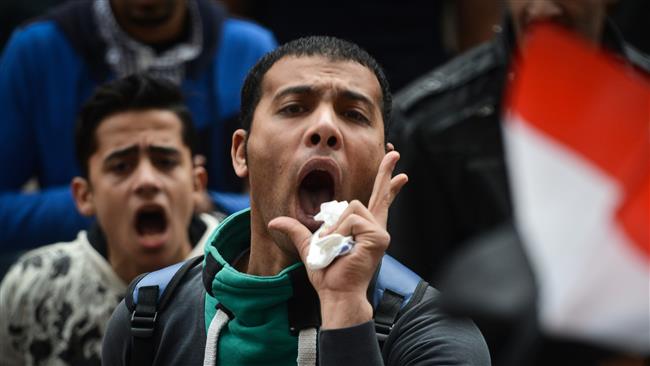 Police have arrested hundreds of Egyptian people on the third anniversary of the 2011 revolution.
Authorities announced Monday they have arrested 516 people on suspicion of supporting the outlawed Muslim Brotherhood.
"Yesterday, we arrested 516 elements from the Muslim Brotherhood group who were involved in firing ammunition, planting explosives and bombing some facilities," Egypt's Interior Minister Mohamed Ibrahim told reporters.
Egyptians ousted long-time dictator, Hosni Mubarak, on January 25, 2011, after weeks of protests and confrontation with security forces across the Arab country.
Egyptian military-backed government has been involved in a heavy-handed crackdown on supporters of Muslim Brotherhood since the incumbent President Abdel Fattah el-Sisi deposed the Arab country's first democratically-elected president, Mohammed Morsi, in July 2013.
At least 20 people, including two policemen, were killed during clashes that erupted between police and protesters on Sunday. Officials announced most of the victims were from a northern district of Cairo where police and demonstrators engaged in clashes that lasted for more than 12 hours. Dozens of people were reportedly arrested in the protests, including eight journalists covering the events.
Security officials announced Monday that two sons of Mubarak, Alaa and Gamal, were due to be released from prison, despite the fact that they still face a trial on corruption charges. Their release from prison is expected to spark more protests across the North African country.
Mubarak is still held at a military hospital in a southern suburb of Cairo.