Syria
Hundreds of Syrian Army's Fresh Reinforcement Forces Arrive in Deir Ezzur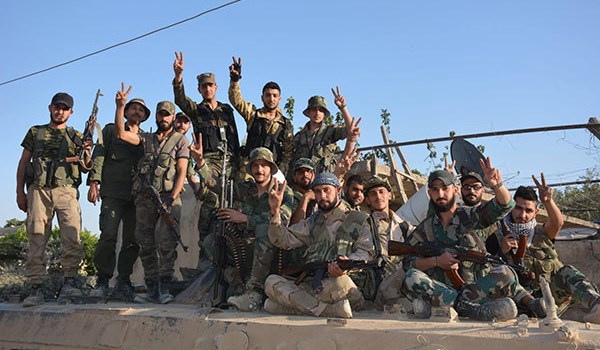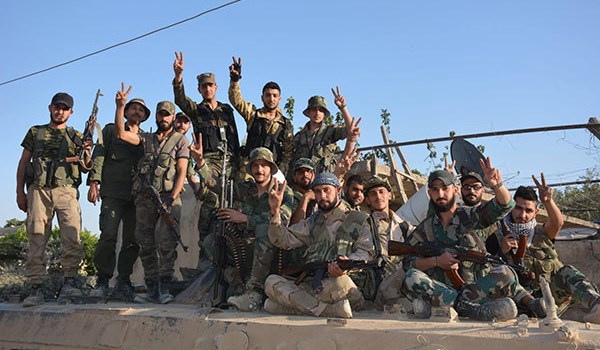 The Syrian army troops are preparing for a new phase of military operations against the terrorists in Deir Ezzur after breaking the sieges of the city and its military airport as well as withdrawal of ISIL from several strategic areas.
A large number of reinforcements from the Syrian Army arrived at the 137th Artillery Brigade Base in Western Deir Ezzur to join their comrades in war on ISIL militants.
Fresh forces will be deployed to the provincial capital, where they will help launch the third phase of the Deir Ezzur military operation.
The Syrian Army convoy traveled through the recently liberated Sukhnah-Deir Ezzur Highway, marking the first time in years that the government has made this long trip through the vast Syrian Desert.
In a relevant development on Tuesday, the Russian military group's Chief of Staff, Lieutenant-General Alexander Lapin, told reporters on Tuesday the Syrian troops are completing the defeat of the ISIL which blocked Deir Ezzur Northern and Southern neighborhoods.
"At the moment the operation to liberate the city continues. The Syrian troops are completing the defeat of the ISIL group which blocked Deir Ezzur's Northern and Southern neighborhoods," Lapin said.
He recalled that the city of Deir Ezzur, which used to be besieged by terrorists for more than three years, was unblocked by Syrian troops under the command of General Hassan Suhel on September 5.
"The Kalibr cruise missiles launched from the Admiral Essen patrol ship of the Russian Black Sea Fleet have destroyed militant command posts and communication hubs, which made it possible to disrupt the management of ISIL units in this area," the general stressed.
According to Lapin, while developing the offensive, the assault force of General Zahreddine's Republican Guard unblocked the military airfield where over 1,000 servicemen were surrounded for ten months.
"More than 450 militants, five tanks and 42 pickup trucks with installed large-caliber machine guns were wiped out during the operation. Units of the 5th assault corps advancing from Palmyra through al-Sukhneh entered the city from the southern direction," he emphasized.