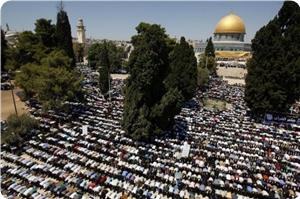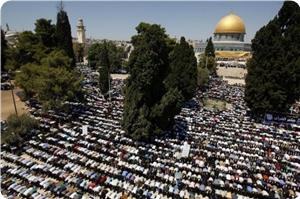 Tens of thousands of Muslim worshipers from the 1948 occupied Palestine and from different West Bank cities have been flocking to Occupied Jerusalem since last night to perform the last Friday prayers of Ramadan at Al-Aqsa Mosque.
Al-Aqsa Foundation for Endowments and Heritage said in a press statement on Qods day that tens of thousands of worshipers started flocking to al-Aqsa Mosque to perform the last Friday prayers of Ramadan there.
Bayareq Foundation in the 1948 occupied territories reported that for today and Sunday (Night of Decree) it will provide 200 buses to transport worshipers from all towns and villages in the 1948 Palestine to Al-Aqsa Mosque.
Meanwhile, the Israeli forces intensified their presence in the city of Jerusalem and deployed thousands of police and security elements in the form of groups throughout the city and at the gates of Al-Aqsa Mosque.
Israeli authorities have imposed strict restrictions on entry of worshipers to Jerusalem. The soldiers stationed at the checkpoints have prevented thousands of Palestinians from entering the occupied city, particularly children over the age of twelve and men under 40 years old.