Middle East
Syria
Turkey
Hundreds of Turkey-Backed Terrorists Join ISIL in Northern Syria
800 members of an Ankara-backed terrorist group stationed in occupied areas of Aleppo and Idlib provinces joined the ISIL.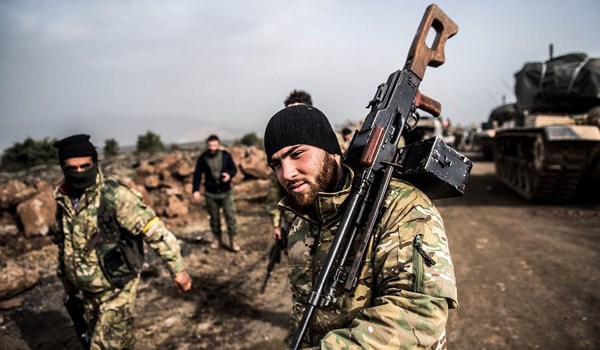 The so-called 'Saraya Khalid bin al-Walid' terrorist group that operates in Idlib province in a statement on Saturday stated allegiance to ISIL ringleader Abu Bakr al-Baghdadi and merged into the terrorist group.
Meantime, the Kurdish-language Hawar news quoted an informed source in Idlib province as saying that Saraya Khalid bin al-Walid terrorist group is supported by Turkey and it consists of nearly 800 militants in different parts of Northern Aleppo and Idlib, specially al-Nayrib, Jabal al-Zawiyeh, Saraqib, Ariha and Mosayebin regions.
The statement came as Russian media reports claimed on Saturday that al-Baghdadi was in Syria's Badiyeh (desert) region, attempting to cross the border into Iraq.
The Arabic-language service of RT news channel quoted an Iraqi intelligence source as saying that al-Baghdadi was hiding in Abu Rajmin mountain near Syria's Palmyra region in Homs province.
He added that the ISIL leader wants to cross the border into Iraq in the next few weeks, noting that he had already made several unsuccessful attempts due to the tight security measures at the border.
The report said captured ISIL terrorists had leaked during interrogations that al-Baghdadi had been left with a small number of Saudi, Tunisian and Iraqi militants who were still loyal to him.
Security experts said al-Baghdadi was likely trying to join the ISIL terrorists who had been transferred by the US from Syria to Iraq.
Iraq's security experts have accused the US army of training hundreds of ISIL terrorists in al-Anbar province after relocating them from Syria to Iraq to prepare them for a new round of insecurity in the country.