Europe
Hundreds of 'yellow vest' protesters converge in Belgium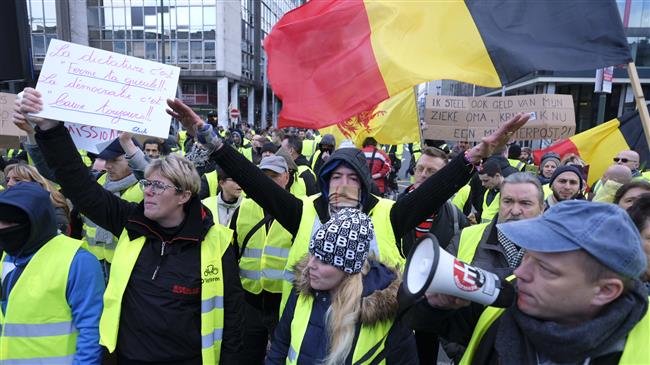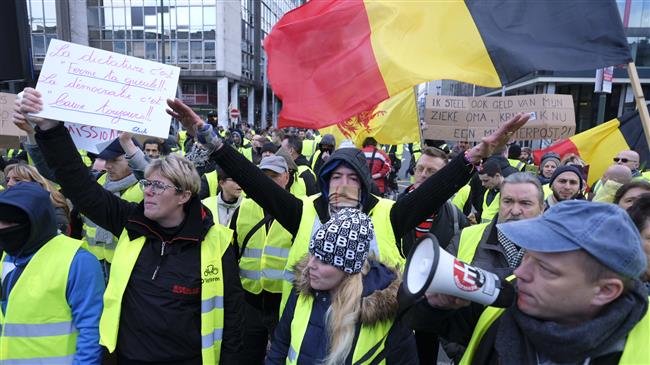 Hundreds of 'yellow vest' protesters have converged in the Belgian capital of Brussels to protest rising fuel prices and undesirable living standards, imitating the recent anti-tax hike protests in France.
The large crowd gathered at the office of Prime Minister Charles Michel on Friday, calling for the premier's resignation. The protest turned violent after protesters clashed with police who used water-cannon and teargas against the crowd.
A few dozen protesters, many of which were masked, threw rocks, firecrackers and road signs towards security forces and the prime minister's office. Police reported two police vans destroyed as a result of the clashes.
The unauthorized demonstrations had, however, started rather peacefully earlier in the day. Protesters blocked roads and disrupted traffic for nearly three hours before facing off with the police.
Police reported arresting 60 for traffic obstruction and carrying large fireworks before the violent clashes broke out.
The flare-up of the famed "yellow vest" protests in Belgium has put pressure on Michel, a liberal ally of French President Emmanuel Macron, as his center-right coalition faces an upcoming election in May.
In a statement made yesterday, the Belgian premier acknowledged existing economic inconveniences in the country, but went on to note that "money doesn't fall from the sky."
Organized through social media and lacking any clear leadership, the latest rallies in the predominantly French-speaking city of Brussels echo demonstrations and grievances of ongoing "yellow vest" protests across the western border in France.
For the last two weeks, French demonstrators have been staging rallies across the country protesting Macron's "pro-business" economic policies and specifically heightened fuel taxes.
Authorities, however, have expressed concern that the protests may spiral beyond economic grievances, accusing "far-left" and "far-right extremists" of trying to infiltrate the rallies.
French authorities have reported an estimated 300,000 demonstrators to have taken part in the nationwide rallies that have so-far lead to two deaths and nearly 1000 injuries.