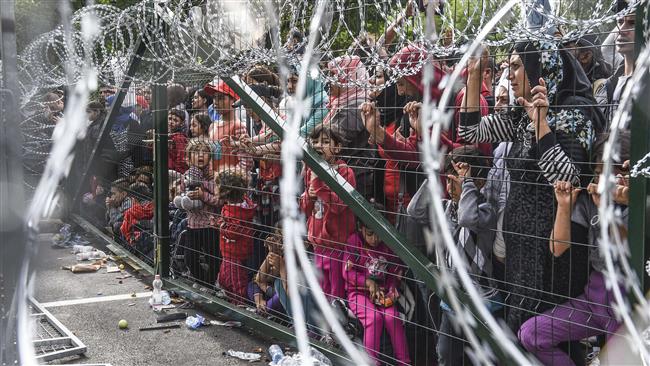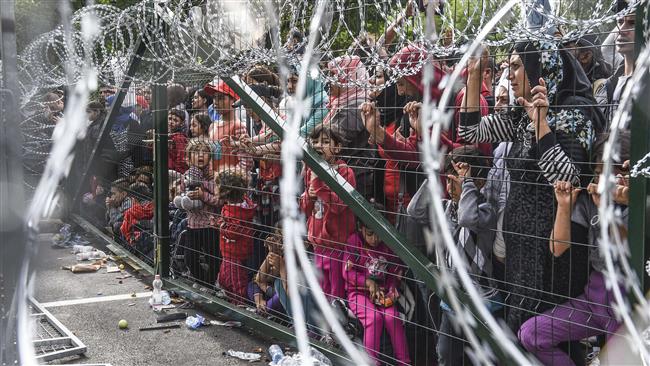 Hungarian police use tear gas and water cannon to disperse protesting refugees that sought to enter the country from Serbia.
Hundreds of riot police, along with special anti-terrorist units with armored vehicles and water cannon, moved towards a crowd of refugees at the Roszke border crossing on Wednesday.
Hungarian police said a group of what they called "aggressive" refugees has broken through the fence.
The Hungarian government says the clashes have left 20 policemen and two children injured.
"So far 20 policemen have been injured and ambulance services have just taken two children (to hospital) who were injured after being thrown over the security fence," the prime minister's security adviser Gyorgy Bakondi told public television.
He added that Budapest would restore and strengthen the fence, while government spokesman Zoltan Kovacs said police would not allow any refugees to break through into Hungarian territory.
Following the confrontation between the refugees and Hungarian police, Budapest called on Serbia to take action against migrants "attacking" police on their border.
Claiming that a group of "very aggressive" refugees persistently attacks Hungarian police with "rocks and pieces of concrete," Hungarian Foreign Minister Peter Szijjarto said, "This attack is coming from Serbia, Serbian territory. Therefore, I firmly asked my Serbian colleague to call on Serbian authorities to act immediately against this aggressive group of migrants."
Serbia's Foreign Ministry later said in a statement that Hungary had informed Belgrade of ordering a 30-day suspension of the Roszke-Horgos border crossing between the two neighbors.
A refugee woman wipes her eyes after Hungarian riot police used pepper spray and water cannon to push back refugees at the Hungarian border with Serbia near the town of Horgos on September 16, 2015. (AFP Photo)
A man stands opposite Hungarian riot police using water cannon to push back refugees at the Hungarian border with Serbia near the town of Horgos on September 16, 2015. (AFP Photo)
Hungarian riot police use pepper spray to push back refugees at the Hungarian border with Serbia near the town of Horgos on September 16, 2015. (AFP Photo)
Iraqi refugees 'expelled' for one year
This as earlier in the day, a court in Hungary has ruled for the expulsion of an Iraqi refugee from the country for one year amid a new crackdown on the influx of asylum seekers into Europe.
The court charged the Iraqi refugee, identified as Swadi Talib, with illegally crossing a border fence running along Hungary's border with Serbia.
He had crossed the fence on Tuesday, which was the first day of crackdown on the asylum seekers feeling war and execution in the Middle East and North Africa.
"This is a message to others, to potential culprits, that they should not commit this crime," said judge Krisztian Kemenes.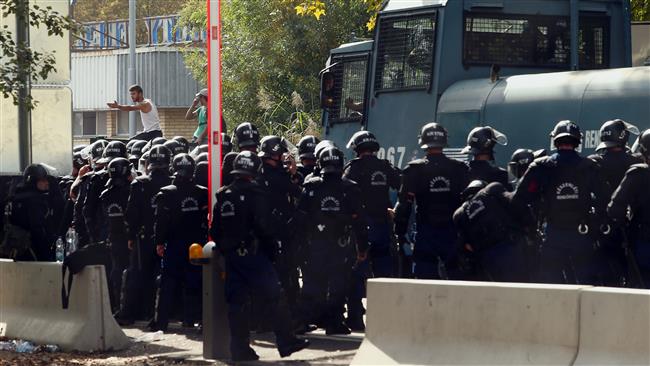 Europe is facing an unprecedented refugee crisis, which has escalated over the summer as refugees are coming directly to the continent instead of staying in camps in neighboring countries.
The continent is now divided over how to deal with the flood of people. Some countries like Germany have taken in a large portion of refugees, while some others including Hungary, Slovakia and Poland have refused to house the refugees and insisted on sending financial support.
Muslim refugees offered pork
Hungarian officials' mistreatment of the refugees is not limited to the Wednesday incident as the aid agency Muntada Aid says Muslim refugees are ignored by authorities who repeatedly offer them pork.
"What we witnessed at Roszke shocked us. We saw women, children, babies and elderly people being herded into an open field where they were kept for days without shelter exposed to the cold and rain," said Kabir Miah, overseas manager at the charity, in a testimony.
Miah added that the authorities had given Muslim refugees sandwiches that contained pork, and even after the asylum seekers refused to eat them, "More sandwiches arrived also containing pork. When one of the volunteers complained a police officer said the refugees should just remove the pork and eat the bread. He said it felt as though the police were mocking them."