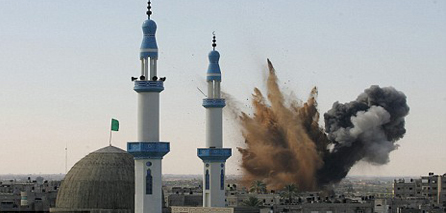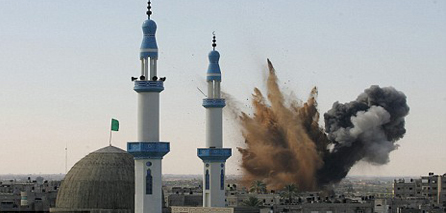 Israeli occupation warplanes hit a target in the southern Gaza Strip Sunday morning, the attack left one Palestinian civilian injured and massive destruction.
The airstrikes hit the Abasan area east of Khan Younis, medical resources reported that the injured was a civilian and he was in a moderate case. The injured was transferred to the Nasser Hospital in Khan Younis city yesterday night.
Moreover, Israeli occupation warplanes further struck at smuggling tunnels along the Egypt-Gaza border in Rafah, with no casualties reported.
On Friday night 31, Israeli occupation waged a fatal attacks led to huge destruction in Palestinian governmental buildings and tunnels of food used for smuggling humanitarian supplies to Gaza people.
The savage attacks by Israel, caused of martyrdom of one Palestinian military leader Essa al-Batran, a commander of Al Qassam brigades in central Gaza Strip and 13 other civilians were left injured due to the attack.
On other hand, Al Qassam Brigades vowed revenge for souls of its leaders, and determined on continuing the Islamic resistance till the liberation of whole Palestine and freedom of all Palestinian prisoners.
Israel violates the international law as still targeting civilians and Palestinian infrastructure which seemed to be a new escalation by Israeli government against besieged people of Gaza.
Israeli occupation waged a war on Gaza Strip 2008-2009 caused of death of 1500 Palestinians, most were children , women and elders, also huge destruction left due to savage attacks targeted the most populated areas in Gaza Strip, including mosques hospitals and schools.