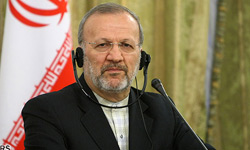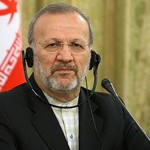 Islamic Iran Foreign Minister Manouchehr Mottaki said on Saturday that the Zionist war criminals should be brought to justice at the International Criminal Court for their crimes against humanity.
He made the remarks reacting to a recent report by the UN fact-finding mission which was prepared by South African Judge Richard Goldstone and his team on the Israeli war on Gaza last winter.
Goldstone's 10,000-page report, has convicted the Zionist regime of committing war crimes against civilians during the last December-January fatal war on the Gaza Strip.
After the release of the report, the UN Human Rights Council held a special session in Geneva on October 16, voting to endorse it which also accused the Israeli military of using disproportionate force against civilians in Gaza, the Islamic republic news agency reported.
It also charged the Zionists with war crimes and crimes against humanity in Gaza. The council's resolution adopting the report was passed by 25 votes to six with eleven countries abstaining.
Goldstone called on the UN Security Council in the report to refer the case to the International Criminal Court a move which was highly welcomed by Palestinian officials.
Referring to the report as a "clear evidence of war crimes and crimes against humanity committed by the Zionist regime, Mottaki noted that the document was "just a part of the reality and the Zionists massive crimes" against innocent Gazans.
"Now are the awakening consciousness and fact-finding eyes of people waiting to see an international court of justice to be held and convict the Zionist criminals for their crimes," Mottaki said.
He added that grounds should be prepared to restore the violated rights of the defenseless people of Palestine and Gazans.