Syria
Idlib: Residents of Khan Sheikhoun Torch Photos of Tahrir Al-Sham's Ringleader Al-Jolani As Army Takes Control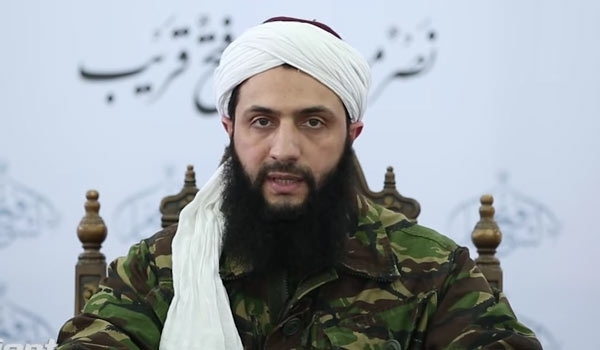 Civilians in the city of Khan Sheikhoun in Southern Idlib have set on fire the photos of Ringleader of Tahrir al-Sham al-Hay'at (the Levant Liberation Board or the Al-Nusra Front) Abu Mohammed al-Jolani after the Syrian Army entered the city and defeated the terrorist group, the Arabic-language media outlets reported.
The Arabic-language Al-Mayadeen TV news channel released a video quoting media activists as saying that after the collapse of Tahrir al-Sham in Khan Sheikhoun and withdrawal of the terrorists from this region, the photos of Jolani were set abaze.
Meantime, the remaining Tahrir al-Sham terrorists who are in Southern Idlib have asked for help from their comrades after the Syrian Army laid siege on Khan Sheikhoun.
On Monday, the Syrian Army managed to enter Khan Sheikhoun after five years.
The Damascus Army troops kept on their clashes with the terrorists in Northwestern Khan Sheikhoun in Southern Idlib, and took control of al-Faqir military post and deployed only 900 meters from Aleppo-Damascus Highway around Khan Sheikhoun.
The Arabic-language al-Watan newspaper quoted battlefield sources as saying that the Syrian Army troops entered Khan Sheikhoun from the North-West after making further advances.
It pointed to the destruction of several bomb-laden vehicles in the region, and said that tens of terrorists started fleeing the scene of the battle as the Syrian Army made its advances.
Meantime, the Syrian Observatory for Human Rights (SOHR) pointed to the arrival of the Syrian Army in Khan Sheikhoun city after five years since the occupation of the city by terrorists, and said that at least 45 terrorists were killed in the Syrian Army's military operation in Khan Sheikhoun.