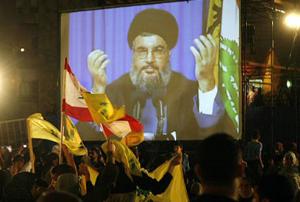 Hezbollah's leader Seyyed Hassan Nasrallah has warned Tel Aviv against waging a new war against Lebanon, asserting that the resistance will strike back.
"We tell the Israelis today that if they bombard Beirut or the southern suburbs we will strike Tel Aviv," Nasrallah made the speech to mark the end of the third anniversary of Israel's 33-day war on Lebanon in 2006.
He added that Lebanon's victory in the war proved that the Israeli army was no longer undefeatable.
"Lebanon must have a deterrent armed force. When we have such a force, we can tell the Israelis that they will not be able to achieve their goals," he said about Hezbollah retaining its capability to serve as a deterrent against any Israeli aggression.
Nasrallah said Netanyahu's ongoing threats against Lebanon were 'psychological warfare' and served to sow discord among Lebanese parties to hinder the formation of a new cabinet.
Tel Aviv "is (rather) seeking to pressure the Lebanese government against Hezbollah's participation in the new Cabinet," he said.
Hezbollah has a thirteen-member bloc in the Lebanese Parliament and is entitled to one or two ministers in the expected national unity cabinet. Premier Saad Hariri has been struggling to form the new cabinet since July.