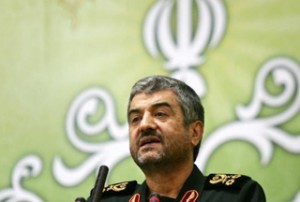 The head of Iran's elite Revolutionary Guards Corps said on Saturday that the Islamic republic has the ability to attack arch-foe Israel's nuclear sites. When asked by Iran's Arablic language television channel Al-Alam whether Iran has the ability to strike Israeli nuclear sites, Mohammad Ali Jafari said: "Yes, definitely we have this capability because of the advances we have made in the past two years to carry out such a task."
"We have said that all of Israel's soil is under the coverage of our missiles. We have such capability and can certainly respond to any attack" by Israel. His comments come a day before the annual day of the Guards. Jafari had previously in March issued a similar statement.
President Mahmoud Ahmadinejad announced in May that Iran had successfully test-fired a new medium-range missile, Sejil-2. US Defense Secretary Robert Gates said the test appeared to have been successful and his information was that the missile will have a range of approximately 2,000 to 2,500 kilometres (1,200 to 1,500 miles).