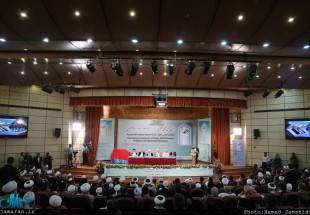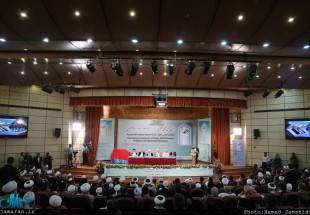 One of the officials of Al-Mustafa University, Sheikh Mokhtar Keshavarz in an exclusive interview with Taqrib News Agency (TNA) on the sideline of the international Conference of Islamic World Scholars in Defense of Palestine Resistance, which was recently held in Iran Capital city of Tehran underscored the barbaric and inhumane measures perpetrated by DAESH lead to purging the group.
The main setback the Islamic World is mired in is ignorance," said the religious clerics stating that there is no need for forcing people or nations to do something.
In his line, instead of political measures, a cultural move can inform Muslims of the real divine religion of Islam and teachings of Islam Prophet, Hazrat Mohammad (PBUH).
Sheikh Mokhtar Keshavarz beckoned to the catalogue of atrocities and vandalism perpetrated by DAESH and underlined, "the groups is engineered and orchestrated by the enemies of Islam including the regime of Zionism and the U.S."
To religious clerics, wrong policies of the past years have emboldened terrorist and extremist group and confronting this inhumane phenomenon requires adoption of a unified strategy and setting out comprehensive and new guidelines
In line with them, Sheikh Mokhtar Keshavarz stressed the key role of unity as a weapon against the extremist groups and underscored, "up to here DAESH was not successful and it will not be in the future either."
To religious clerics and participants of the conference, Muslims should be prudent against the plots hatched by the enemies. In their lines, calling forth all their strength, Muslims through upholding unity can show their power to the world.
According to them, Muslims should purge their previous rows and conflicts, being punctilious and avoiding being truculent so as to be able to stand against this extremist group, since the enemies want to observe Muslims pugnacious in behaving with each other.
The ISIL Takfiri terrorists currently control parts of Syria and Iraq. They have threatened all communities, including Shias, Sunnis, Kurds, Christians, Izadi Kurds and others, as they continue their atrocities in Iraq.
Senior Iraqi officials have blamed Saudi Arabia, Qatar, and some Persian Gulf Arab states for the growing terrorism in their country.
The terrorist group has links with Saudi intelligence and is believed to be indirectly supported by the Israeli regime.