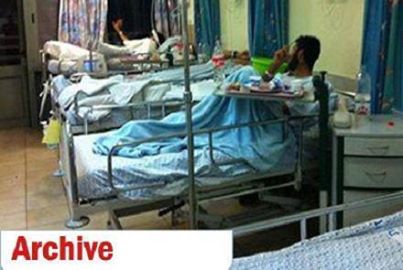 Here the file that proves israel is involved in the war on Syria directly. There are 8 videos(some hasn't got YouTube link thats why they may not be watched by some programmes especially for the phone users) and many other evidences by their dates. We haven't given all the details of the news for not boring you but we provided the link for details for all. Of course there are many other evidences but these are just some of them. We hope these sources will help you to some extend.
                                                                                 Thanks, Islamic Invitation Turkey
"Israel's involvement was established as made clear by its welcoming al-Qaeda-linked wounded terrorists for treatment in Israeli hospitals, which proves deep connection between Israel and terrorist groups in terms of shared goals."
Deputy Foreign Minister Dr. Fayssal Al-Mikdad
60 terrorists killed wounded taken to israeli hospitals!
[Date and Time:28 March 2014 – 23:23]
Victorious Syrian Army launched successful attacks against Armed Terrorists on the outskirts of "Al-Dawayha Al-Kabira" and "Al-Dawayha Al-Sghiri" and "Al-Hajje" in rural Quneitra, resulting in 60 Terrorists killed while the injured were transported to Israeli hospitals
Israel in contact with terrorists in Syria: Israeli cmdr.
[Date and Time:24 February 2014 – 14:05]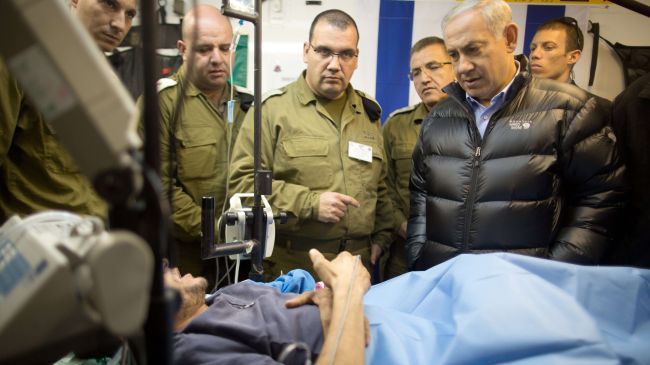 An Israeli commander has admitted that the Israeli military is in contact with the foreign-backed militant and terrorist groups inside Syria.
The Israeli commander said that the militants provide Israeli intelligence officials with information on the identity and medical condition of the wounded militants.
Some reports say hundreds of al-Qaeda-linked terrorists have received treatment in Israeli hospitals. Most of them have returned to Syria, where they fight government forces.
On February 18, Israeli Prime Minister Benjamin Netanyahu paid a visit to a secret field hospital in the occupied Golan Heights, which offers medical services to the injured militants coming in from Syria.
On February 21, foreign-backed Syrian opposition leader Muhammad Badie reportedly praised Netanyahu for visiting the wounded militants.
Badie said that he and his friends thanked the Israeli premier for publicly voicing support for the injured militants.
Syria has been gripped by deadly violence since 2011.
Damascus says the US and its allies support the militant groups operating inside Syria.
Syria Opposition Thanks, the Friend, Netanyahu!
[Date and Time:23 February 2014 – 11:06]
A Syrian opposition leader praised "Israeli" Prime Minister Benjamin Netanyahu late Friday for publicly voicing support for militants wounded in their fight against the Syrian government and President Bashar al-Assad.
Opposition leader Muhammad Badie told "Israel" Radio Friday that the Syrian opposition appreciated Netanyahu's decision to visit and speak at a field hospital for Syrians wounded in the conflict during a Tuesday tour of the Golan Heights.
Speaking from Istanbul, Badie thanked "those working to assist the Syrian people in their struggle".
to read the full: http://www.islamicinvitationturkey.com/2014/02/23/syria-opposition-thanks-the-friend-netanyahu/
Zionist Netenyahu helping, hugging terrorists in Syria
[Date and Time:19 February 2014 – 20:22]
Zionist Netenyahu helping, hugging terrorists in Syria while the same butcher has been killing the children in Gaza for decades. WHY? Who is a REAL muslim and jeehadist? Palestinians or the so-called terrrorists in Syria? Is Israel a muslim country or the so-called muslim fighters in Syria are Zionist's servants and puppets?

Syria Opposition Supporters must read!! zionist media: 700 fighters treated in israeli Golan field hospital
[Date and Time:2 February 2014 – 18:59]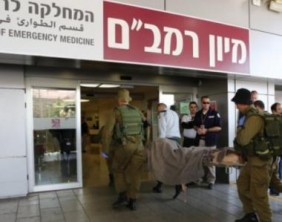 The Israeli occupation army established a field hospital on the Golan Heights to treat the Syrian injured militants who belong to the terrorist group golan hospitals in Syria.
These groups have treated over 700 of their injured militants in that hospitals, according to Israeli media outlets.
to read the full: http://www.islamicinvitationturkey.com/2014/02/02/syria-opposition-supporters-must-read-zionist-media-700-fighter-treated-in-israeli-golan-field-hospital/
Israeli hospitals receive more injured terrorists in Syria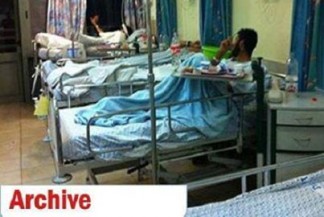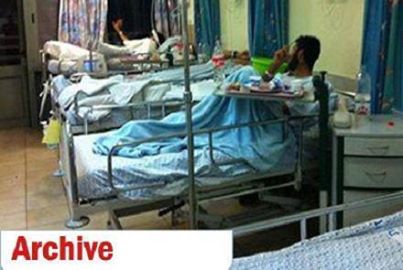 The Israeli occupation forces on Saturday transferred 4 injured members of the armed terrorist groups in Syria to hospitals in the Palestinian lands occupied in 1948 for treatment.
The Israeli website Walla said that 4 wounded Syrian terrorists were transferred to Poriya Hospital in Tiberias, one of them was seriously injured.
to read the full: http://www.islamicinvitationturkey.com/2014/01/12/israeli-hospitals-receive-more-injured-terrorists-terrorists-in-syria/
So-called Mujaheeds in Syria getting medical treatment in israeli(the eternal enemy of Islam) hospitals
[Date and Time:20 January 2014 – 23:37]
Leader of FSA Brigade-"We will Stand with US & Israel"
[Date and Time:20 January 2014 – 23:37]
Israeli-made weapons in terrorists hands seized by Syrian Army in Gouta
[Date and Time:27 October 2013 – 23:22]
For YouTube Link:
http://www.youtube.com/watch?feature=player_embedded&v=n62vzY95bBs
So-called Mujaheeds in Syria getting medical treatment in israeli(the eternal enemy of Islam) hospitals
[Date and Time:5 September 2013 – 22:13]
Zionist israeli- made weapons detained in Syria's Qussair
[Date and Time:8 June 2013 – 4:08]
Terrorists in Syria sheltered in Zionist israel
[Date and Time:8 June 2013 – 4:04]
CIA Mossad Snipers arrested in Syria
[Date and Time:19 May 2013 – 19:56]