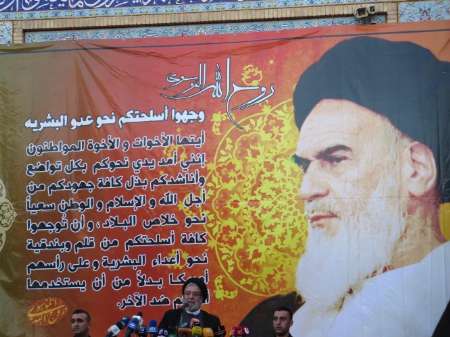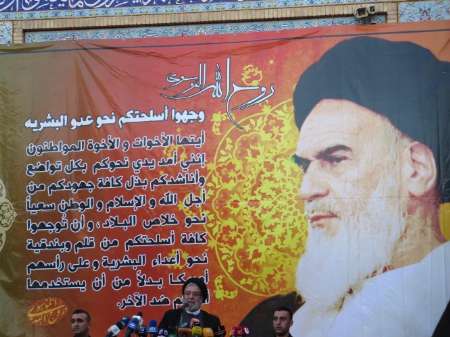 Head of Lebanese Hezbollah Political Council said that the late Founder of the Islamic Republic Imam Khomeini introduced Islam to global equations turning it into a superpower.
Addressing a ceremony to mark the 27th anniversary of the late Imam's sad demise in the mausoleum of Hazrat Zeinab (SA) (Sister of the third Ahlul Bait Imam) Thursday evening , Seyyed Ebrahim Amin Al-Seyyed noted Imam Khomeini introduced the genuine Islam to the world when it had no place in the international political and social relations.
The official added that the late Imam pursued two objectives by his Islamic Revolution one was to introduce true image of Islam, bring back dignity, kindness, peace and freedom.
The second goal of the late Imam was to prove the oppressed people of the world who were disappointed that they can live with dignity despite being under pressure by the superpowers.
The Islamic Revolution was not an Iranian revolution only, but it was also a revolution for all humans. the late Imam managed to discover the Islamic nations' potential courage, capability and preparedness and tell them that they can also achieve independence, dignity and freedom like the Iranian nation, Al-Seyyed said.
Father of the Islamic Revolution passed away in 1989. The anniversary of his sad demise is being held worldwide by Iranians and non-Iranians each year.
Meanwhile, similar ceremonies were held on Thursday in Serbia and Malaysia on the occassion.
The ceremony held in Malaysia was attended by Iranian expatriates in that country and also Iran's Cultural Attache Ali Akbar Ziaei.
While in Serbia, the ceremony was held in Iran's Embassy attended by the embassy staff and a number of several Serbian Muslims.