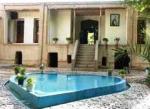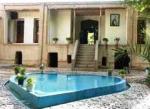 A painting from a collection entitled "The Doors of Khomein" has been purchased by the Imam Khomeini Museum in Tehran, Tehran's Shokuh Gallery reported on Wednesday.
The painting portraying the door of the house in which the Founder of the Islamic Republic, Imam Khomeini, spent his childhood.
"The Doors of Khomein", which has been created by the Iranian painter Behnush Forutan, is composed of works representing doors of a number of historical and vintage houses in the town of Khomein, the birthplace of Imam Khomeini in Central Province.
The report was not clear about the price the painting.
The artwork is currently on display in an exhibition at Tehran's Shokuh Gallery. Works by other Iranian artists have also been showcased at the exhibit entitled "A Narration of 100 Years of Classic and Modern Iranian Art".
"The Doors of Khomein" is a photo-realistic collection, which features a nostalgic reflection of traditional Iranian architecture and cultural values.
The Imam Khomeini Museum is located at Milad Tower. The museum was established by the Institute for the Compilation and Publication of Imam Khomeini's Works.