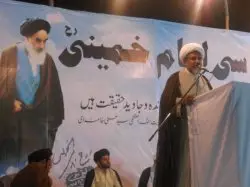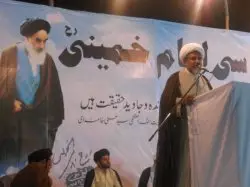 Majlis Wehdat Muslemeen (MWM) has organized a seminar in Karachi to commemorate the 23rd death anniversary of the founder of the Islamic Revolution Imam Khomeini.
Speakers on the occasion highlighted the role of late Imam Khomeini for establishing justice in the world.
A large number of students, religious leaders and women participated in the seminar organized in the city of Karachi, the capital of southern Sindh province.
Secretary General MWM Allama Raja Nasir Abbas Jaffery expressing his views said Imam Khomeini had spread the teachings of Imam Ali (A.S.).
"Imam Khomeini lived his life according to the principles of Islam," he said. The MWM leader said Imam Khomeini is true leader of entire Muslim world.
He said that Imam Khomeini had successfully uprooted the 'Yazidi government'.
Raja Nasir Abbas Jaffery was of the view that late Imam Khomeini was not only a spiritual leader but a great philosopher. The religious leader went on to say that Imam defeated the imperialist system through his struggle.
He strongly believed that, if somewhere in the world Muslims are living happily, it is only because of the efforts of Imam Khomeini.
He added that awakening movements in Muslim countries have been inspired by the teachings of the founder of Islamic Revolution. He opined that thoughts of late Imam are a 'key' which have forced the oppressed to fight against powerful.
He vowed that Majlis Wehdat Muslemeen will take all out efforts to spread the message of Imam Khomeini in Pakistan.
Religious and political leaders and senior members of Majlis Wehdat Muslemeen also spoke on the occasion and paid homage to founder of the Islamic Revolution Imam Khomeini.
Talking to IRNA on Saturday Allama Ameen Shaheedi, Deputy Secretary General (MWM), expressed condolence on the 23rd death anniversary of Imam Khomeini.
"After Karachi a series of seminars on Imam Khomeini would be held in Jehlum, Multan, Lahore, Quetta, Gilgit, Skardu, Nawabshah and Gujrat," he said.