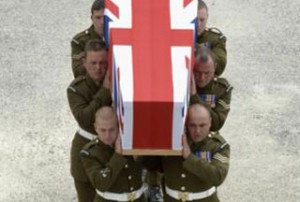 The Ministry of Defense says that one British soldier has been killed in an explosion while on patrol in southern Afghanistan.
The soldier from the 1st Battalion the Grenadier Guards died near the Nad Ali District Centre in central Helmand province Monday, the ministry said in a statement on Tuesday.
"Our deepest and heartfelt sympathies go out to his bereaved family, to his friends and to the many comrades of this proud and brave Guards soldier," said spokesman Lieutenant Colonel Nick Richardson.
The fatality is the 220th British Army soldier to have been killed in the war-torn country since the US-led invasion in 2001, according to official accounts.
Britain has around 9,150 troops in Afghanistan, the vast majority in Helmand.
The MoD said it would review troop numbers in the wake of Afghanistan's presidential elections held in August, a US review and in the light of military advice and the situation on the ground.
"Any decisions on future troop levels would be subject to… discussions with allies," it said.