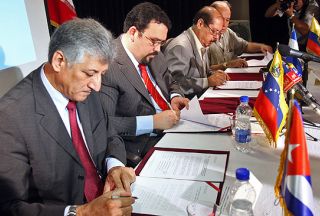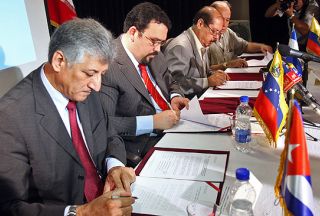 The eight member states of a Latin American trade alliance have warned the US and Israel that fueling the nuclear conflict with Iran could destabilize the entire Middle East.
In a joint declaration issued in Tehran on Wednesday, the Bolivarian Alternative for the Americas (ALBA) blasted Western powers for seeking to provoke a war with Iran over its nuclear program, urging the West to stay committed to the "civilized way of dialogue."
"We, Ambassadors and Heads of Missions of the Bolivarian Alliance for the Peoples of Our America (ALBA) in the Islamic Republic of Iran, condemn the destabilizing and militaristic aspirations of the United States' Government and its allies," the declaration reads.
The delectation signaled out Israel as a regime "whose acts lead to a conflict scene against Iran which will be extended to all the Middle East."
The trade alliance went on to reaffirm their support for Iran's right to a civilian nuclear program.
"We ratify the support of our governments to the sovereign right of the Islamic Republic of Iran, to generate atomic energy and use it with peaceful aims, the right of all nations laid down in the NPT (Nuclear Non-Proliferation Treaty)."
Venezuelan President Hugo Chavez founded ALBA as an alternative to the US-proposed Free Trade Area of the Americas (FTAA or ALCA in Spanish) that excludes Cuba.
Shortly after an Iranian proposal in 2007, the non-aligned trade group granted Tehran observer status.
The stand off over Tehran's nuclear program began amid US and Israeli allegations that Iran is harboring a secret military agenda.
Tehran argues that as a signatory to the NPT it has the right to peaceful nuclear technology for medical research and civilian energy generation.
On May 17, Iran, Brazil, and Turkey issued a joint nuclear fuel swap declaration to ease growing tensions. Three weeks after the Tehran Declaration, the UN Security Council approved a Washington-drafted sanctions resolution against Iran, toughening earlier measures targeting the country's financial and military sectors.