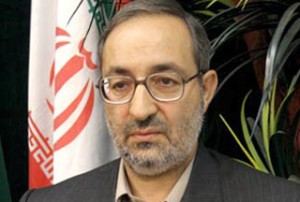 A senior Iranian commander on Saturday took a hit at the former UN nuclear watchdog director-general, saying he has to apologize for creating misconceptions about Iran's nuclear activities on the global stage.
Deputy Head of Iran's Armed Forces Headquarters Brigadier-General Seyyed Massoud Jazayeri said all intelligence agencies and in particular the International Atomic Energy Agency (IAEA) "is well aware of the fact that the use of nuclear energy by the Islamic Republic is a legal and peaceful move."
He, however, explained that domineering powers make every attempt to reverse facts and manipulate public opinion, seeking to deprive Iran of its right to have access to nuclear energy.
The Iranian commander was referring to Western pressure on Iran, calling on the Tehran government to halt its nuclear enrichment under the allegation that the program is aimed at building a nuclear bomb.
Tehran, however, says nuclear weapons have no place in its defensive doctrine and has called for the removal of all weapons of mass destruction from across the globe.
Jazayeri went on to implicate former IAEA director-general Mohamed ElBaradei in what he described as reversing the reality about Iran's nuclear program.
"Without a doubt, the former IAEA director-general had a role in reversing the reality about this issue; therefore he should apologize for this matter to the people of the world and in particular to the Islamic Republic," Jazayeri said.
The remarks come as the IAEA, in ElBaradei's last days in office, passed a resolution calling on Iran to stop all construction work at its new enrichment plant — Fordo — and confirm there are no more nuclear sites that the agency must be aware of.
The Tehran government, however, rejected the resolution as politically-motivated and without any legal basis, arguing that Iran's activities are not in breach of the nuclear pact.