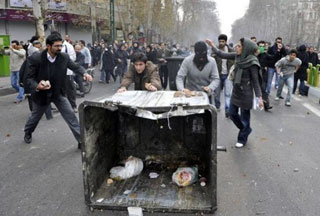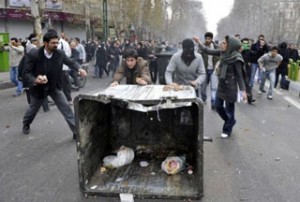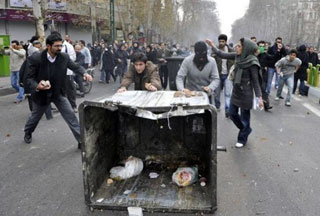 One day after clashes erupted between anti-government protestors and security forces in the Iranian capital, Tehran's Firefighting Organization talks of the extent of the damage.
Speaking to the official Islamic Republic News Agency (IRNA) on Monday, Head of the Public Relations office of Tehran's Safety Services and Firefighting Organization Behrouz Tashakkor said 838 firefighters were dispatched to various locations in Tehran on Ashura.
"Nine residential buildings, 9 vehicles, 7 shops, 2 banks and 3 power stations were set on fire [by anti-government protestors], " Tashakkor said.
The Iranian official added that "18 garbage bins" were also set on fire.
Protestors took to some central and downtown streets in Tehran on Sunday, hijacking the Ashura ceremonies, during which people commemorate the 7th century death of Prophet Muhammad's (PBUH) grandson, Imam Hussein (PBUH).
The protesters reportedly chanted slogans against top Iranian government officials. Iranian police forces used tear gas to disperse protestors.
Eight people were confirmed dead during the unrest.
Among those killed on Sunday was Seyyed Ali Mousavi, the nephew of Mir-Hossein Mousavi. Police described his death as "suspicious," saying that investigations into the assassination were underway.
Confirming the deaths, Iran's deputy police chief Ahmad-Reza Radan said the force did not use violence against protesters, denying any involvement in the killings.