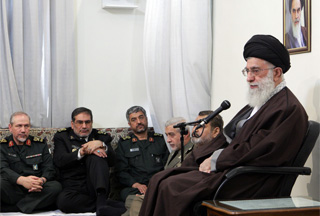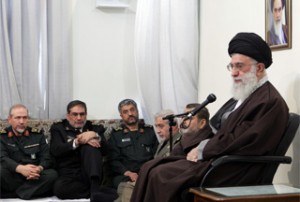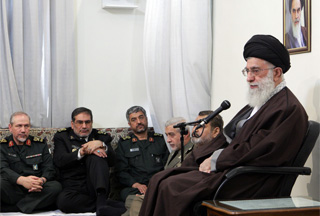 Leader of the Islamic Ummah and Opressed People Imam Seyyed Ali Khamenei slams US President Barack Obama for implicitly threatening Iran with a "nuclear attack."
In a meeting with top military commanders on Sunday Imam Ali Khamenei said certain powers reply on their strength out of pride and therefore lose their authority.
"An example of this is the recent remarks by the US president who implicitly threatened the Iranian nation with the use of nuclear arms."
"These remarks are very strange and the world should not ignore them because in the 21st century, the century of claiming to advocate human rights and fight terrorism, the head of a country has threatened [to launch] a nuclear attack," he added.
Imam Ali Khamenei said such comments are not in the interest of the US, adding, "These remarks mean that the US government is a wicked and unreliable government."
"In recent years, the Americans made many efforts to show that the Islamic Republic of Iran is unreliable in the nuclear issue…it is clear now that the governments that have atomic bombs and shamelessly threaten to bomb others [countries] are the unreliable ones. Therefore the US president's remarks are scandalous."
The Leader said that the strength of an establishment is dependant on its faith, resilience, and strong will. "After 30 years, the Iranian nation is more resilient and strong and has shown it has the ability to withstand any form of animosity."
Imam Ali Khamenei urged Iran's Armed Forces to adopt necessary strategies to promote the country's defense capabilities.
"The Armed Forces should always be on full alert and ready to counter any threats by… taking their training seriously," he said.