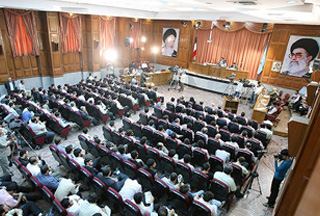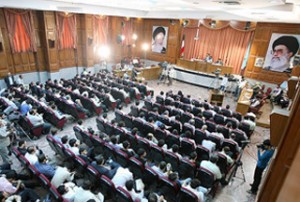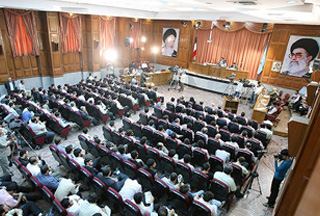 Iran has started the second hearing in trial of political figures allegedly involved in the riots sparked in the aftermath of the 10th presidential election.
The first closed court session was held last Saturday, during which a number of leading Reformist and opposition figures stood trial, among whom were Mohammad-Ali Abtahi one of the deputies of the former two-term President Mohammad Khatami, Abdollah Ramezanzadeh, one of Khatami's associates, former deputy foreign minister Mohsen Aminzadeh and former lawmakers Mohsen Mirdamadi and Behzad Nabavi.
The second session was initially scheduled for Thursday but was postponed to Saturday due to a request by lawyers of the defendants.
The open court session started on Saturday in the branch 15 of the Revolutionary Court, Fars news agency reported.
The defendants to stand in the dock are prominent journalist Ahmad Zeydabadi along with other leading figures such as Ali Tajernia, Hedayat Aqaei, Shahab Tabatabaei and Javad Emam.
Certain individuals allegedly affiliated with terrorist groups and others who were involved in recent post-election street riots are also present in the court.
Also named in the court are a local staffer in French Embassy in Iran and Clotilde Reiss, a female French academic, who was detained on espionage charges following the presidential election.
The judge in charge of hearing today's trial proceedings, Abul Qasim Salavati, said that the lawyers had already read the indictments and visited their defendants.
Earlier, Houshang Babaei, a lawyer of opposition defendants, had protested what he called the lack of respect for basic requirements of holding a trial in the previous session.
The lawyer mentioned visiting defendants in prison, having access to charges filed against the prisoner, and being granted enough time to defend the accused as the primary principles of holding a fair trial.
Following President Mahmoud Ahmadinejad's victory in the June 12 election, defeated candidates Mir-Hossein Mousavi and Karroubi disputed the veracity of the vote, rejecting the result as 'fraudulent'.
Tehran and some other Iranian cities became the scene of rallies with some of them turning violent and resulting in the death of at least 20 people.
In the course of the riots, over a thousand people including well-known Reformist figures and political activists were arrested, some of whom went to trial last week.