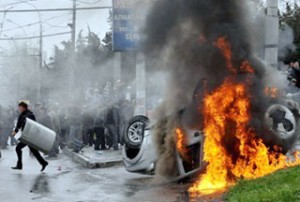 Amid chaos and uncertainty in the Kyrgyz capital of Bishkek, the interim government of Roza Otunbayeva has moved to freeze the national banking system as speculations run high that the ousted president might take money out of the country.
The new chief of staff for the interim Kyrgyz government, Edil Baisalov, accused President Kurmanbek Bakiev on Friday of emptying the state reserves before leaving.
"The state coffers are almost empty," Baisalov told CNN.
"Some funds have been transferred somewhere, which is why we've frozen the banking system, because we are anxious that the banks controlled by the former President Bakiev might take the funds out of the country," he added.
Meanwhile, head of the interim government Otunbayeva offered President Bakiyev safe passage out of the strategic Central Asian country.
"Bakiyev still has a chance to leave the country," Otunbayeva told reporters. She, however, set one condition for the offer, saying that "we will only guarantee his personal safety if he resigns."
The ousted president, who claims to have widespread support, has so far refused to step down and has expressed fear that those responsible for the Wednesday uprising in the capital were trying to track him down and kill him.
Insisting that he is still the legitimate president, Bakiyev said he would stay in the country to prevent a civil war that could erupt because of the deep divide between the north and the south of the country.
At least 75 people died and more than 1,500 were injured on Wednesday in the bloodshed that ended up in the fall of the Kyrgyz government.
Meanwhile, the interim government set up by the opposition has declared a national day of mourning to honor those killed in the unrest.