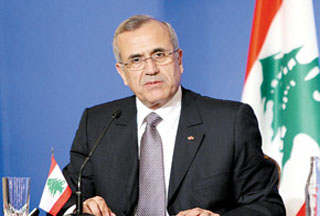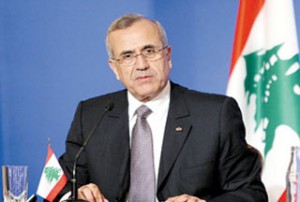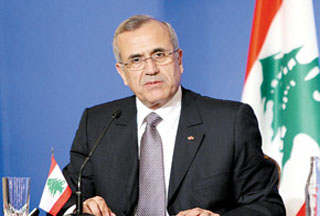 Lebanese President Michel Sleiman says no one in Lebanon would allow a foreign party to harm Hezbollah by exploiting the 2007 US-Internal Security Forces cooperation agreement.
"We will not allow, and no one in Lebanon would allow or would want, particularly at the level of institutions and officials, to bring harm to the [Hezbollah] Resistance [movement] through the so-called 'security agreement' with Washington," Sleiman told Qatari newspaper al-Watan in an interview to be published on Thursday.
Sleiman said the agreement, which was considered as "dangerous" by Hezbollah, has been dealt with in accordance with the Lebanese Constitution.
"When the executive authority puts its hands on an issue, we wait for the report to be issued so we can judge," Sleiman explained.
"We will wait for the cabinet's report on the matter," he added. "Any agreement signed between the Lebanese government and a foreign party can be reassessed."
Meanwhile, the Lebanese Parliamentary Committee on Communications and Information concluded its last meeting on the controversial issue of the US grant to the Internal Security Forces on Wednesday, a Press TV correspondent reported.
During the meeting, Hezbollah lawmaker Hassan Fadlallah said he would present a report detailing the viewpoints of all members of the Committee to Parliament Speaker Nabih Berri.
Fadlallah also repeated Hezbollah's criticism of the agreement, stressing that the so-called "security agreement" with Washington aims to brand Lebanon's internal security forces as terrorist organizations.