Iran
Saudi Arabia
In letter to UN, Iran rejects Saudi claims on Yemen missiles as 'unfounded'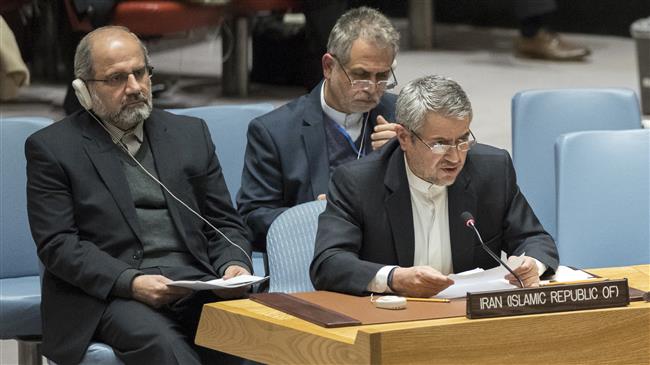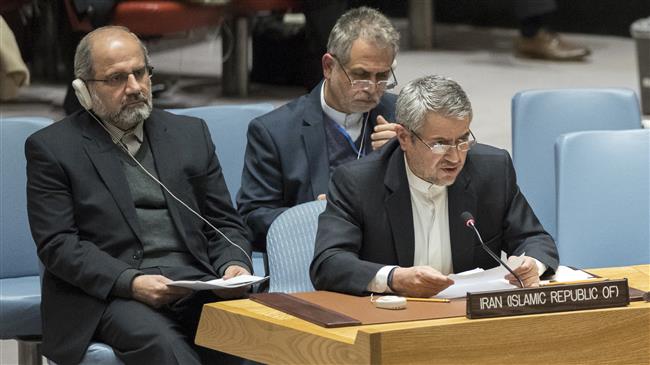 In a letter to the United Nations, Iran once again rejects "imaginary" and "unfounded" Saudi claims of Tehran sending missiles to Yemen, saying the Riyadh regime has repeatedly used the same "scenario" to divert attention from its ongoing atrocities against the Yemeni people.
"Accusing Iran of providing or smuggling ballistic missiles to one of the parties to the conflict in Yemen is nothing but an attempt to conceal the brutal and unlawful aggression in Yemen and the extremely appalling situation caused by such aggression," Iran's Ambssador to UN Gholamali Khoshroo said in the letter addressed to UN Secretary General Antonio Guterres and Security Council chief Karel Jan Gustaff van Oosterom on Thursday.
Khoshroo argued that Saudi Arabia's aerial and maritime blockade on Yemen "continues to impose intolerable suffering [on] the Yemeni people," making it impossible to provide military equipment to Yemeni forces.
The letter came days after the Saudi envoy to the UN Abdallah al-Moallimi wrote to the world body, claiming that Iran should be held accountable for supplying Yemen's Houthi Ansarullah movement with missiles to target Saudi soil.
The Saudi-led coalition, which has been waging a bloody war on Yemen for three years, recently displayed wreckage of what it called fragments of missiles recently fired from Yemen, and claimed forensic analysis showed they were supplied by Iran.
The coalition's spokesman, Turki al-Maliki, accused Iran of being behind multiple Yemeni retaliatory missile attacks on the kingdom and threatened the Islamic Republic with retaliation.
Khoshroo further rejected Maliki's statement as "unlawful," adding that it is a "usual scenario" for the Saudi rulers and military "to repeat their unfounded assumptions and allegations followed by the threat to use of force against a United Nations member state in clear defiance of Article 2(4) of the UN Charter."
The Saudi-led military campaign has, since March 2015, killed and injured over 600,000 civilians, including more than a quarter of a million children, according to the Yemeni Ministry of Human Rights. It has also destroyed the country's infrastructure, the healthcare system in particular, leaving it defenseless against a deadly outbreak of cholera.
The war is aimed at crushing Yemen's Houthi movement and reinstalling a Riyadh-friendly government there.
The Houthi movement has been both running state affairs in the absence of an effective government and successfully defending the country against Saudi-led aerial and ground attacks.
It has repeatedly denied receiving military equipment from Iran, and said it has managed to domestically strengthen its defense capabilities.
Iran says Saudi officials are trying to cover up their defeats in the Yemen war by leveling baseless accusations against others.
The cover-up
Khoshroo said the Saudi aggression is "the root cause" of what the UN has called the "largest humanitarian crisis in the world," and yet the Saudi leaders seek to "cover up their reprehensible crimes by introducing false charges against other countries or attempt to spread the crisis beyond Yemen's borders."
"Numerous reports by the United Nations and other relevant bodies and institutions have so far documented the crimes committed by the Saudi-led coalition against Yemeni civilians, as well as many incidences of engagement by the Coalition in violating international law, international humanitarian law and international human rights law," he further explained.
Support from US, UK and France 'tragic'
In his letter, Khoshroo also blasted those permanent UNSC members that have been providing Riyadh with advanced weapons over the course of war despite international outcry.
The US, the UK and France, Saudi Arabia's largest arms providers, have thrown their weight behind Riyadh's claims against Iran, proposing failed resolutions to condemn the Islamic Republic.
"It is tragic that the three Permanent Members of the Security Council who stoke smuggling allegations against Iran in tandem with the Saudi regime are the ones who are selling billions of dollars of deadly, advanced weaponry to Saudi Arabia that are regularly used against civilians and civilian targets in Yemen," the Iranian envoy said.
Iran's UN ambassador has rejected baseless Saudi allegations against Tehran, urging Riyadh to stop the war on Yemen and engage, instead, in dialog with its neighbor.
Call for action
Khoshroo then called on the international community to stop arms trade with the kingdom, help establish a ceasefire in Yemen and ultimately hold Saudi leaders accountable.
"Iran strongly urges the Saudi regime to immediately put an end to its destabilizing policies in the region, including its military intervention as well as its starvation campaign in Yemen, and continues to call on all parties in Yemen to pursue diplomatic ways and means to resolve the conflict," he wrote.