Palestine
In speech to NAM, Zarif calls for intl. probe into Israel crimes in Gaza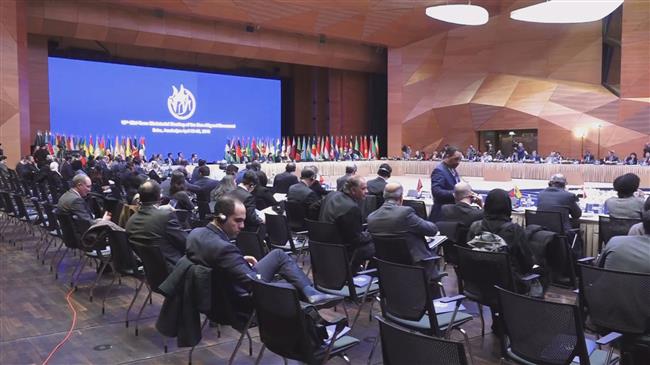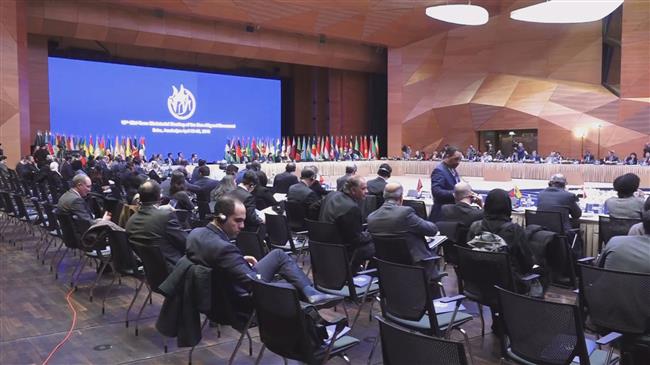 Iranian Foreign Minister Mohammad Javad Zarif has slammed Israel as the "main threat" to the world's security, calling for an international probe into the regime's atrocities against Palestinians.
Zarif was addressing the ministerial meeting of the Non-Aligned Movement (NAM) in the Azeri capital city of Baku on Thursday.
NAM's mid-term ministerial conference opened on Thursday under the theme of "promoting international peace and security for sustainable development," with 800 representatives from 120 member states as well as 10 international bodies and 17 countries as observers in attendance.
The Iranian foreign minister denounced the mass killing of Palestinian protesters in the Gaza Strip by Israeli military forces and called for international investigation into Israel's criminal actions.
"We condemn the killings of civilians, including women and children in Palestine. We want an international tribunal to be established to fully restore the rights of the Palestinians and free Palestine from occupation," Zarif was quoted as saying by the Azerbaijan Press Agency (APA).
On Friday, Gazans marched to the fence with the occupied lands at the start of a six-week protest, dubbed "The Great March of Return," demanding the right to return for Palestinians driven out of their homeland.
The first day of the demonstrations turned violent after Israeli forces used tear gas and live fire against the Palestinians, killing 19 and injuring almost 1,500 Gazans.
Zarif further called for efforts to restore the Palestinian rights, particularly with regard to the establishment of an independent Palestinian state with East Jerusalem al-Quds as its capital and end of Israel's blockade on Gaza Strip.
The Iranian minister noted that the Israeli regime relies on the support of the US and some of its regional allies in committing crimes against Palestinians
Washington's recent growing support for Tel Aviv, particularly  US President Donald Trump's decision to recognize Jerusalem al-Quds as Israel's capital, has further emboldened the apartheid regime.
Zarif criticized Washington's unilateral policies vis-à-vis global issues, saying this has led to the expansion of extremism, violence and terrorism in West Asia and other regions.
The top Iranian diplomat further warned that the Middle East is still witnessing terror activities by remnants of terror group and Daesh, despite its defeat in Iraq and Syria, calling for closer regional cooperation against the scourge.
The senior diplomat warned that the US does not observe its international commitments with regard to international security, adding that Washington's allocation of $1.2 trillion to proliferation of nuclear weapons will lead to a new global arms race.
Zarif called on the NAM members to utilize the existing mechanisms, including the UN, to hold a high-level conference on the issue of non-proliferation.