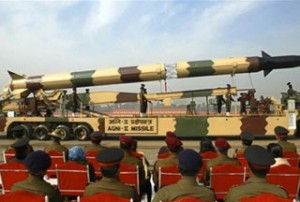 An Indian defense official says the country has successfully test-fired a short-range nuclear-capable missile from a naval warship in the Bay of Bengal.
The missile's range is up to 350 kilometers, an Indian defense official said Sunday on condition of anonymity.
The short-range Dhanush (Rainbow) missile is capable of carrying both conventional and nuclear warheads.
The missile was previously tested in 2002 and 2007. India is developing a variety of missiles to strengthen what it says is its defense capability.