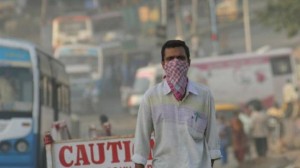 A new study by the World Health Organization (WHO) suggests that India is home to the most polluted cities in the world.
In the study, the level of air pollution in some 1,600 cities across 91 countries in the 2008-2013 period were examined.
The Indian capital, New Delhi, has the world's highest annual average concentration of small airborne particles, known as PM2.5.
These small particles which are less than 2.5 micrometers in diameter are considered to be the most dangerous for lung health. They are also linked with high rates of bronchitis, lung cancer, and heart diseases.
"The government should immediately inform people on a daily basis about the air quality and issue health advisory to people especially for those who are already vulnerable to respiratory and cardiac problems to take precautions when we have very bad air quality days," Anumita Roy Chowdhury, with the Center for Science and Environment, told Press TV.
The cities of Patna, Gwalior, and Raipur followed the capital for the worst air pollution.
Reports in February showed that New Delhi's air pollution was worse than that of the Chinese capital, Beijing.
Some 3,000 children and infants lose their lives in the Indian capital due to air pollution every year.
Official figures show that in 2012 air pollution killed about seven million people globally.