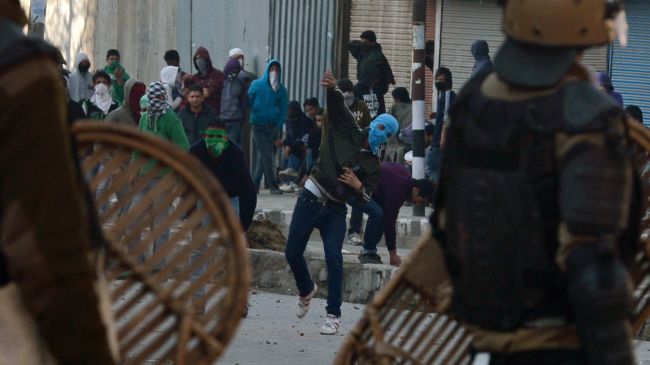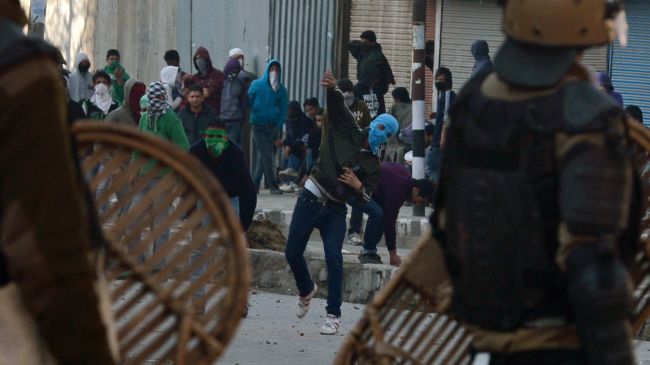 Clashes have broken out between security forces and protesters in the Indian-administered Kashmir after authorities imposed a new curfew in the Muslim majority region to put down unrest over the killing of a 23-year-old student.
On Wednesday, scores of people took to the streets in the main city of Srinagar where they threw stones at Indian security forces.
Earlier in the day, Kashmir's police chief Shiv Murari Sahai issued a statement saying "Parts of Srinagar and four towns are under curfew and there's little movement in other areas because of a (protest) shutdown."
On Tuesday, a Kashmiri student identified as Tahir Ahmed Sofi was killed after Indian police opened fire at demonstrators condemning the mysterious death of a PHD student in Kashmir.
On Saturday, a 28-year-old student, identified as Mudasir Ahmed Malla, was found dead in his hostel room in the Indian city of Hyderabad.
On the same day, Malla's friend Patil Sandeep said, "We knocked the door repeatedly. Thinking that something must have gone wrong we … got in, and found him hanging from the ceiling."
Indian officials said Malla took his own life due to depression, but his family says he was killed.
Indian officials have imposed restrictions in Malla's native village in Pulwama to avoid possible unrest. Malla was buried there on Monday.