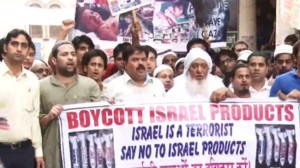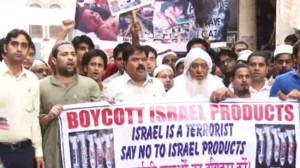 A group of protesters have taken to the streets in the Indian capital, New Delhi, to call for boycotting Israeli goods over its war on the Palestinians in the besieged Gaza Strip, Press TV reports.
The Muslim demonstrators on Sunday also announced their solidarity with the people of Gaza in the face of the ongoing Israeli attacks.
Shouting anti-Israel slogans, the protestors denounced the Israeli aggression on the Palestinians in Gaza.
The protestors also appealed to the people around the world to stop buying all Israeli products because they believe the money from such products is being used to wage war against the innocent people of Gaza.
"We have been appealing [to] the masses to boycott all products made by Israel or America because by virtue of selling these products and in another way by virtue of consuming these products we have been supporting Israel and indirectly America," Shahid Ali, an advocate at Delhi High Court, told Press TV.
They also called on the Indian government to cut off its ties with Israel.
The demonstrators said the international community must unite against Israel over its illegal occupation of Palestinian territories. They said Israel must be isolated from the world community by all means necessary.
The overall number of the Palestinians killed in Gaza since July 8, when the Israeli military attacks on the coastal sliver began, now stands at 2,122. Nearly 570 children are among the dead. More than 10,800 have also been injured.
The UN says more than 80 percent of casualties of the Israeli attacks have been civilians.