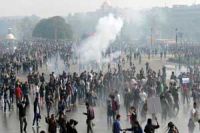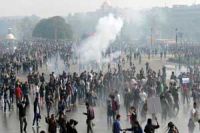 Indian students have continued to rally against a recent brutal gang rape of a female student in the capital New Delhi, despite a government ban on such protests.
Several thousand protesters gathered near the presidential palace on Sunday, demanding better safety for women following the gang rape that happened last weekend.
Carrying banners that read "We Want Justice" and "Hang the Rapists," students shouted anti-government slogans.
Reports say police used tear gas to disperse the angry demonstrators.
This comes after New Delhi police issued a statement earlier saying that areas close to the president's residence and the parliament have been declared off-limits to protesters.
On Saturday, thousands of angry students also marched towards the president's residence, but were confronted by riot police officers.
The protests erupted after a medical student was raped by seven men in a bus last Sunday. The victim and her male friend were then severely beaten with iron rods before being thrown off the moving bus.