India
Indians hold protests over diplomat maltreatment in US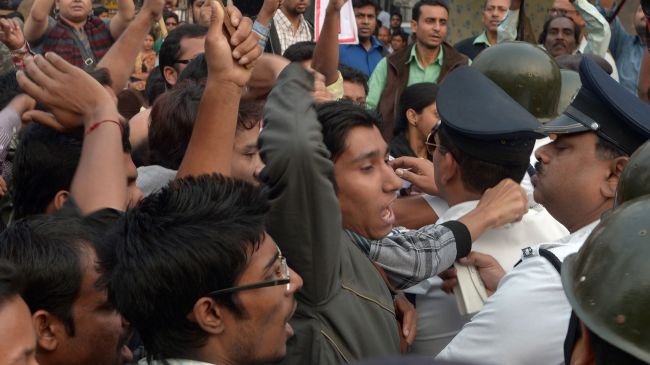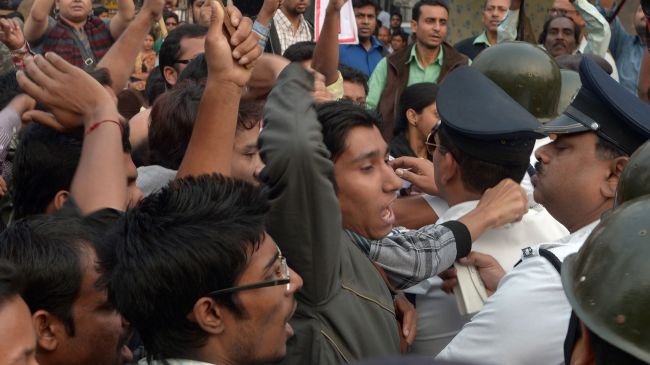 Indian protesters have taken to the streets across the country to voice outrage over the arrest and maltreatment of an Indian diplomat in the United States.
On Thursday, angry demonstrators held a demonstration in Kolkata, calling on the provincial government to take retaliatory measures against American diplomats in the city.
Shouting anti-US slogans, protesters also demanded the removal of security barricades outside the US consulate in the city.
Similar protests were also staged in the city of Ajmer, where the demonstrators said that New Delhi has not taken strong enough steps against Washington.
Tensions rose after the arrest of Devyani Khobragade, India's deputy consul general at its mission in New York on December 12, as she was dropping her children off at school.
The 39-year-old was handcuffed and strip searched by police on charges of visa fraud and underpaying her housekeeper. She was later freed on bail.
Her maltreatment caused anger in India and sparked a series of reprisals, including the removal of protective barricades outside the US Embassy in New Delhi.
On Thursday, India's Foreign Minister Salman Khurshid repeated calls for the visa fraud case against the diplomat to be dropped and denounced her treatment as "terrible."
"We have asked for the case to be dropped and withdrawn… we are not convinced that there are legitimate grounds for pursuing it," Khurshid told reporters.
"I cannot believe if a US senator was arrested he would be put through this behavior… I would rather not prejudge. Let us allow the American government to respond."
Khurshid made the remarks a day after US Secretary of State John Kerry expressed regret over the case in a phone call to India's National Security Adviser Shivshankar Menon
However, India's Parliamentary Affairs Minister Kamal Nath said, "A mere regret won't make us happy. They must offer a clear apology and accept that they made a mistake. That is what we will be satisfied with."