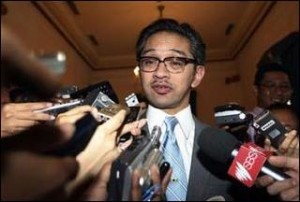 Indonesia has lamented the imposition of fresh UN sanctions against Iran, stressing the need for diplomacy in ending the standoff over Tehran's nuclear program.
Indonesian Foreign Minister Marty Natalegawa cast doubt on whether the UN Security Council sanctions resolution can play a part in efforts to settle the nuclear standoff, the Qatari New Agency (QNA) reported Monday citing a ministry statement.
Highlighting Jakarta's opposition to the measure, Natalegawa stressed that the standoff revolved around a "shortage of trust between the parties."
He added that the same skepticism has withheld the West from accepting the May 17 nuclear fuel swap declaration issued by Iran, Brazil and Turkey
Iran, Brazil and Turkey issued the declaration following pro-diplomacy talks in May, with Tehran announcing its readiness to ship 1,200 kg of its low enriched uranium to Turkey in exchange for fuel for a medical research reactor.
The US and its European allies, however, went ahead with efforts to impose a fourth round of punitive sanctions on the country over its nuclear program.
Iran insists that as a member of the International Atomic Energy Agency (IAEA) and signatory to the Nuclear Non-Proliferation Treaty (NPT) it has the right to civilian nuclear energy.
The US, however, accuses the country's nuclear program of harboring a secret military aspect.