Asia-Pacific
Indonesia discovers crashed AirAsia black box in Java Sea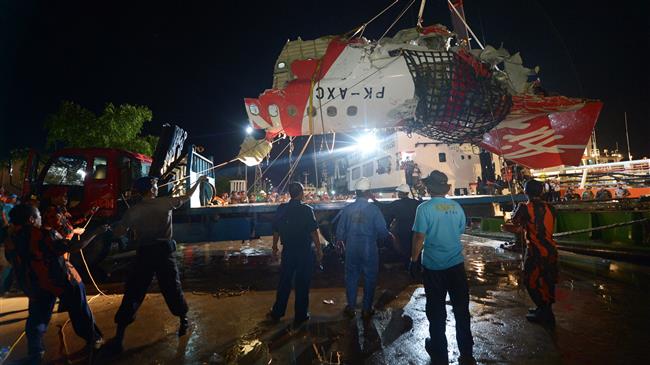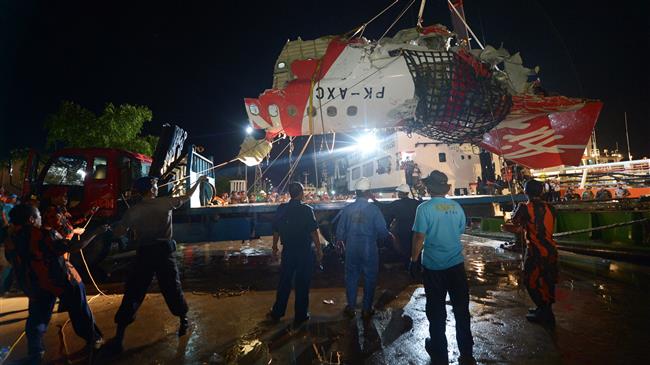 Indonesian Transport Ministry says the country's divers have succeeded in discovering the key black box of the crashed AirAsia QZ8501 flight in the Java Sea.
The ministry added that a team of Indonesian divers spotted the black box on Sunday near where the tail of the Airbus A320 aircraft was raised out of the water on Saturday. It added, however, that they failed to retrieve it immediately from the seabed as it was stuck under the plane's debris.
"The navy divers in Jadayat state boat have succeeded in finding a very important instrument, the black box of AirAsia QZ8501," said Tonny Budiono, a senior ministry official.
He added that the flight recorder from the crashed plane was at a depth of 30-32 meters.
The divers will on Monday try to change the position of the wreckage in order to bring the black box to surface by using underwater lifting bags.
"However, if this effort fails, then the team will lift part of the main body using the same balloon technique used earlier to lift the tail," Budiono added.
The breakthrough in the two-week-long search came after officials said they had detected strong pings by three of the search vessels.
The signals were heard from an area spanning one to four kilometers (0.6 to 2.4 miles) from the location of the aircraft's tail. The discovery of the recorders will be vital for explaining why the aircraft went down.
Rescue workers have so far recovered 48 bodies and the aircraft's tail section as well as smaller pieces of the aircraft, including seats and an emergency door, from the sea surface.
Officials are hopeful that most of the remaining 114 corpses will be found entombed in the body of the plane.
On December 28, 2014, the Indonesia AirAsia Airbus A320 disappeared en route to Singapore from Surabaya in Indonesia, with 155 passengers and seven crew members on board. The plane was later found to have crashed in the Java Sea under yet unknown circumstances.
The Indonesian Agency for Meteorology, Climatology and Geophysics has said bad weather was the key factor behind the crash, specifically pointing to icy conditions as the likely cause of engine failure.