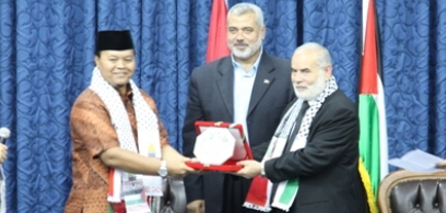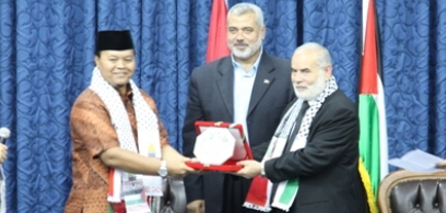 Yesterday a delegation of 35 Indonesian MPs entered Gaza in an attempt to break the siege and check the latest updates on Gaza's continually deteriorating situation.
The Indonesian delegation, who visited the Gaza Strip, donated the amount of two million dollars for a hospital to be built in northern Gaza Strip; the hospital carries the name of Hamas leader Dr-Nezar Rayyan who martyred by Zionist airforces during Al-Furqan war on Gaza.
"Al Rayyan" hospital will be built as soon as Israeli occupation ends unjust blockade on Gaza and do allow reconstruction material to enter Gaza Strip.
Dr. Ahmad Bahar, Deputy Chief of the Legislative Council in addition to Fathi Hamad, Minister of Interior, Health Minister Bassem Naim, and lawmakers in northern Gaza, leaders of Hamas and important personalities accompanied the delegation, composed of 35 parliamentarians headed by the President of the Indonesian parliament Marzuki Ali while they were visiting the northern of Gaza Strip.